A Short Note From Flora
February 4th, 2010
Red Greeting Cards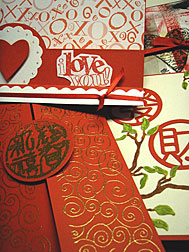 February 14th - Red and More Red! The Red Red Day!
Both Valentine's Day as well as Chinese New Year fall on the same day this year - 14th of February.
Both are symbolized by the color RED so here we are making lots of red greeting cards for these two important events.
Whether you are a Chinese or non Chinese, have fun making these red greeting cards. Make a Lunar New Year card for your Chinese friend or neighbor even if you don't celebrate Chinese New Year yourself.
By the way, the Koreans celebrate New Year on the same day as the Chinese. So are the Mongolian, Tibetans and Vietnamese. Interesting!
View and read more about these handmade Chinese greeting cards.
There are three of these homemade greetings with template and simple instructions.
View the Valentines cards.
A few Happy Valentines cards for browsing with instructions, love quotes and verses.
Connect With Me
To connect with me, you can always find me at Facebook.
Finally, to you and yours, have a creative day everyday.


Flora
---
GreetingNews! is a free monthly publication of making-greeting-cards.com

Copyright ©2004 - 2010 FlorenceArt!, All rights reserved worldwide.

To mail inquiries or to send your handmade card to Flora:

Flora Tan
Blk 16 #04-11
Kallang Place
Singapore 339156




New!

Comments Have your say about what you just read! Leave me a comment in the box below.