Happy Valentines Cards
Make Your Own Love Cards
For Happy Valentine's Day
Make these Happy Valentines Cards and express your love for those you hold close to your heart. Surely a card made with your own hands is especially precious and will be treasured by the one you love.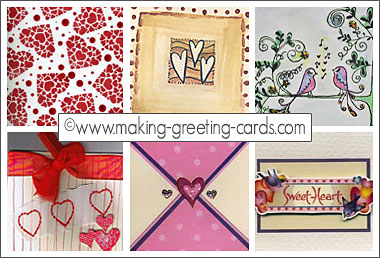 Below are some valentines cards that I have created. Also included here are some by Valerie Smith another cardcrafter. I hope to add more to this list whenever I have leisure time to create so do visit again to see newer handmade valentines cards.
Or you can subscribe to this cardmaking website by clicking on the links provided below so that you'll be able to know whenever new cards are added to this site.
Unique Valentines Cards
Love Verses, Love Quotes, Love Poems
Sentiments for Your Handmade Cards
Add a romantic sentiment to your handmade Happy Valentine's card to express your feeling and thoughts for the loved one whom you are sending the card to. Here are pages of these love quotations you can choose from.
Scroll down to add a comment/feedback below if you like this page.
Hope to make more of these Happy Valentine's Day cards and add them here. So do check back often or join my Making Greeting Cards Facebook group or Google+ community.
---
Making Greeting Cards!

›
Happy Valentine's Day Cards
Like This Site?
Celebrating Creativity! Connecting Lives!
~ bringing cheer one card at a time.
Help Me Get The Word Out

If you like making greeting cards and want to encourage others to do so because of its many benefits, please help me share this website with your friends. Just click on the share buttons below to share with your fans and friends. Thank you for sharing the good things in life :-)