Happy Chinese New Year Greeting Cards
Homemade Wishes for a Prosperous Lunar New Year
Chinese New Year greeting cards can be purchased cheaply almost everywhere over here in Singapore weeks before the festive holidays. But I still prefer to make them myself. I guess because I have all the card making tools and supplies and it is so much fun to make them anyway.
Of all the Chinese holidays, Chinese New Year, also known as Lunar New Year is the most important for the Chinese.
Couplets and papercutting adorned doors of traditional Chinese homes. Red lanterns and other auspicious decorations will be put up in the home weeks before Chinese New Year.
The following Chinese New Year greeting cards are Chinese greetings I made and sent out to family members and friends near and far. 
My Homemade Chinese New Year Greeting Cards

Red on White Pocket Tag Card
---

Red and Gold Greeting Card
---

Blossom Chinese Greetings
---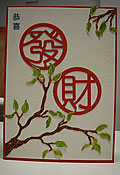 Gong Xi Fa Cai
---
Homemade Chinese New Year Gifts
New Spring - Red Goodies Packs
Hope to put more Oriental cards here. Lots of ideas but so little time but will get those cards done as I so love to make these greeting cards and send them out to bless others.  :-)
---
Making Greeting Cards!

›
Chinese New Year Cards
Like This Site?
Celebrating Creativity! Connecting Lives!
~ bringing cheer one card at a time.
Help Me Get The Word Out

If you like making greeting cards and want to encourage others to do so because of its many benefits, please help me share this website with your friends. Just click on the share buttons below to share with your fans and friends. Thank you for sharing the good things in life :-)