A Short Note From Flora
November 16th, 2010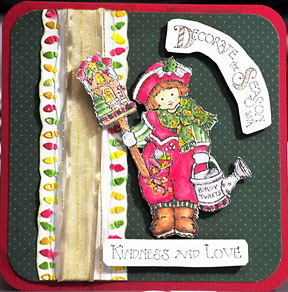 Christmas Card Ideas

Have you decided on your holiday card design yet?
If not, then you might want to check out the handmade greeting cards on the website.
View all Christmas Cards on website

There are two new holiday cards added to the website with simple step-by-step instructions.
Two new Handmade Holiday Cards
To Upload Your Handmade Cards
You can upload your handmade cards to the website. Now you are able to upload multiple photographs of your handmade greeting card or variation of your card design.
Please do write at least a paragraph on the cardmaking supplies and techniques used to create that card(s). This will enable viewers and searchers to find you and comment on your handmade cards.
I will greatly appreciate if you will share your card on the appropriate category. Example, birthday card in the Birthday Card category and wedding cards in the Wedding Cards category.
And please do not post anything that's not about cardmaking. Any inappropriate upload and post will be removed. Thank you for your co-operation.
So just go here to upload and share with us.
Connect With Making Greeting Cards
Making Greeting Cards has launched a Facebook page where we can connect with one another and share cardmaking techniques and ideas. You can also upload your photos so that we can see your creations.
To share, follow Making Greeting Cards.
Finally, to you and yours, have a creative day everyday.


Flora
---
GreetingNews! is a free monthly publication of making-greeting-cards.com

Copyright ©2004 - 2010 Heart to Art, All rights reserved worldwide.

To mail inquiries or to send your handmade card to Flora:

Flora Tan
Blk 16 #04-11
Kallang Place
Singapore 339156




New!

Comments Have your say about what you just read! Leave me a comment in the box below.