Make This Handmade Dragonfly Card On Your Computer!
Here's a handmade dragonfly card that I made with the help of my computer using royalty free graphic.
It's is quite easy but will need detail embossing powder, a heat gun and a piece of acetate or clear transparency. Make sure that the transparency is one that can withstand heat.
Here, I use eyelets to attach the transparency to the card front.
Try it! It's fun! And whoever receives it will love and treasure it.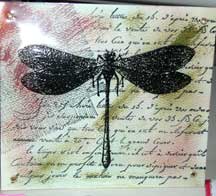 Card Making Supplies:
1. blank white card
2. 2 small gold eyelets
3. eyelet setter
4. computer dragonfly graphic
5. Rubber Stamp: Netted Background by All Night Media
6. Rubber Stamp: Old French Writing by Hero Arts
7. a piece of acetate (transparency)
8. inkpads: colors of your choice ( I used autumn colors for this handmade dragonfly card since it's autumn time now.)
9. hole punch
10. scissors
Card Making Instructions:
1. Use a computer image editing software like Adobe Photoshop or Paint Shop to enlarge or reduce dragonfly graphic to right size.
2. Get ready embossing powder.
3. Print out dragonfly image onto acetate.
4. Quickly pour embossing powder onto the image covering it.
5. Shake off excess powder and clean up stray powder with a tiny brush.
6. Heat emboss the image with a heat gun or heat source.
7. Put aside.
8. Ink netted background rubber stamp with black ink and stamp on top right corner of white card front.
9. Ink Old French Writing background rubber stamp with black ink and stamp onto front of white card.
10. Using colors of your choice, dab inkpads directly onto card.
11. Trim acetate to the same size as white card front, positioning the dragonfly in the centre.
12. Punch holes and use eyelets to attach to the card front.
Please help me spread the joy of card making to as many people as possible by sending the URL of this site to your friends. To do so,
SHARE THE PASSION for Cardmaking!
just click here.
Thanks alot.
Do sign up for the FREE monthly e-newsletter and be informed of updates to this site and other fresh news on card making.
to top of page : Handmade Dragonfly Card

Back To Making Greeting Cards Homepage
Copyright ©2004-2007 www.making-greeting-cards.com. All Rights Reserved.