Simply Adorable!
What a delightfully baby greeting card. A whimsical baby in a pram against a white background and layered with teal colored card stock. I don't know who produced this rubber stamp but it's a really cool image and I like the simple pram design and the innocent look of the baby looking out from the pram. It's a wooden rubber stamp and the image on the wood is a reverse image so I guess it must be produced cheaply. There's no manufacturer's details on the wood.
Actually only after I have created the card, photographed and attached to this page before I really scrutinized the image. Then I realised that there's a border of tiny hearts on the pram.
Anyway, here's the image of this baby card. Have a look!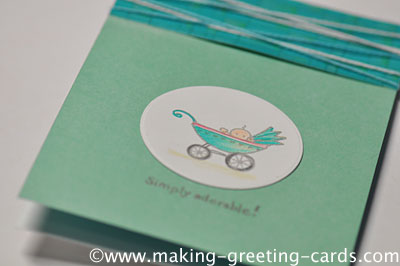 Card Making Supplies
used for this baby greeting card
Color card stocks are from Provo Craft - 6" x 12" Textured Dual-Tone Cardstock.
white color cardstock 4.25" x 6.5"
light teal color card stock 4.25" x 6.00"
dark teal color card stock 4.25" x 1.75"
off-white scrap card stock
baby and pram rubber stamp
simple adorable rubber stamp
paper trimmer or scissors
gray color ink pad
prismacolor colored pencils
knitting cotton teal and white color
glue stick or double-sided tape
2.25" die cut circle or punch
Card Making Instructions
score and fold white color cardstock 0.25" from top to make a blank 4.25" x 6.00" folded card
apply glue or double-sided tape and attach light teal color cardstock to folded strip of the white card for card front.
ink background rubber stamp with gray ink and stamp on dark teal color card stock.
Use a white color pencil to color alternate rectangles on the stamped background.
tie the cotton a few times around the strip of dark teal cardstock.
attached to top of card front with double-sided tape.
punch or die cut a 2.25" circle with the off-white scrap card.
ink pram and baby stamp with gray and stamp the image on the white circle.
color image with prismacolor pencils.
attach to centre front of card..
ink word 'Simply Adorable!' stamp with gray ink and stamp below the punched circle.
The gray ink on the words Simply Adorable was not sharp so I wrote over with a silver fine marker. And with that, the baby card is completed and ready for a handwritten message inside. And here's another photo of the cute baby cad.
Help Me Get The Word Out

If you like making greeting cards and want to encourage others to do so because of its many benefits, please help me share this website with your friends. Just click on the share buttons below to share with your fans and friends. Thank you for sharing the good things in life:-)
Celebrating Creativity! Connecting Lives!
~ bringing cheer one card at a time.