Make This Japanese Style Spring Card!
This Japanese style spring card is quite easy to make. You'll be very happy with the result.
Just follow the step by step instructions below and you should be able to have it done in less than half an hour. Or at most, an hour. Try it!
I'm sure you'll enjoy making this card.
And the following list of materials needed for making this card is just below. So start gathering the materials now and have fun.
Card Making Supplies:
1. shocking pink basic blank card
2. white cardstock
3. small flower rubber stamp
4. message rubber stamp
5. gel pen
6. Brilliance Inkpad : pink color
7. Black inkpad
8. Glitter glue
9. Glue or double-sided tape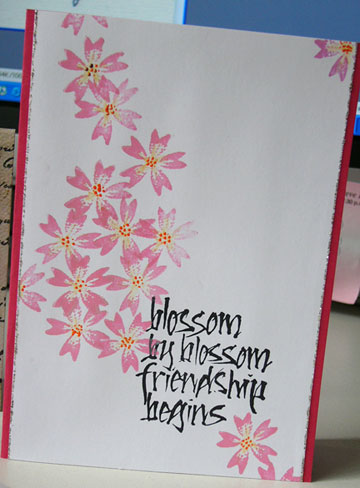 Card Making Instructions:
1. Ink flower rubber stamp with pink ink and stamp on white cardstock. (refer to picture above for stamping position)
2. Ink message stamp with black pigment ink and stamp on the right bottom of card.
3. Using a orange gel pen, make some dots on the centre of each flowers.
4. Apply glister glue to the left and right edge of white cardstock.
5. Glue white card to shocking pink black card.
to top of page : Japanese Style Spring Card

Back to Making Greeting Cards Homepage
Copyright ©2004-2007 www.making-greeting-cards.com. All Rights Reserved.