Cards by Jeanny Nguyen
Jeanny Nguyen from Vietnam sent in these handmade cards. These are her first attempt at card making and the results are good. Thank you, Jeanny, for sharing your creations with us.
A handmade birthday card created with the recipient in mind and made with much love is certainly a treasure to keep for life.
Another handmade birthday card created by our reader, Jeanny Nguyen. Here Jeanny used sequins and glitters to embellish her card.
Christmas - It's the most wonderful time of the year : A blue homemade christmas card using pressed leaf, alphabet cut-outs from color paper and silver glitter glue pen.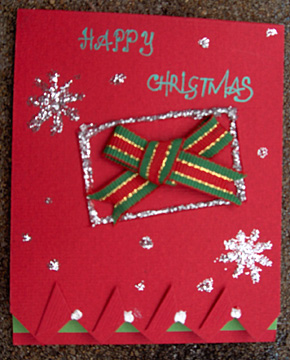 Happy Christmas : A red and green homemade christmas card using ribbon, silver glitter pen and cut and fold for a border.
to top of page : Cards by Jeanny Nguyen

Readers' Cards Index

back to Making Greeting Cards homepage
Copyright ©2004-2007 www.making-greeting-cards.com. All Rights Reserved.