Card Making Ideas For Your Japanese Rubber Stamps
Japanese rubber stamps are very fun and easy to use. I love to experiment with these Asian style rubber stamps very much and very often I found myself taking out these rubber stamps to create my own Japanese style greeting cards.
Here's a picture of some Japanese Rubber Stamps by Komodo in my Asian collection.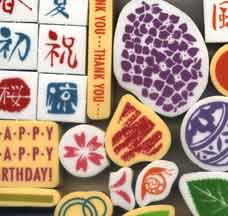 To get ideas for these rubber stamps, I usually browse through Japanese magazines, and design books, etc.
Another idea is to look at Japanese products packaging. Or just copy the card making designs suggested on the back of the brochure or leaflet that come with the rubber stamps. And after awhile you will begin to get the idea of working with Asian style rubber stamps and start making your own Asian style greeting cards with these craft stamps.
Below are some oriental card designs that use these versatile rubber stamps.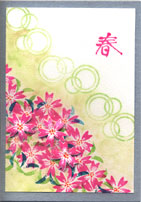 Combine the rubber stamps and make this lovely Asian style Happy Birthday card.
Actually making oriental cards is very simple. Just remember to keep the design simple and clean.
Here's another card created with the circle and tear drop shape asian style rubber stamps.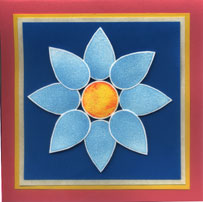 to top of page : Card Making With Japanese Rubber Stamps

To Making Greeting Cards Homepage
Copyright ©2004-2007 www.making-greeting-cards.com. All Rights Reserved.