Readers' Cards : Lola Lim
Lola Lim, one of our many readers, has graciously mailed me these cards that she has made herself.
Lola Lim, like Ying Pang, is from Malaysia.
A cute fun card using paper-piecing. Indeed, the funky monkeys! A Happy Birthday Card which is surely fun to receive and treasure.



Another 3D card using paper-piecing, stickers, punches, dimensional ink pen and vellum. Red and Green Christmas theme. I love this Santa Christmas card.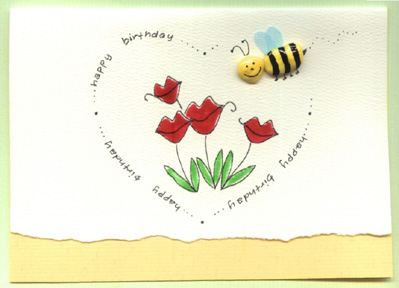 A sure-to-be-loved Happy Birthday Card. Heart, lips and a busy bee - a happy card for someone's birthday.



Another beautiful handmade card by Lola Lim.


Thank you Lola for sharing your creative works with us.



to top of page : Readers' Cards - Lola Lim

back to Making Greeting Cards' Homepage
Copyright ©2004-2007 www.making-greeting-cards.com. All Rights Reserved.