More Stickers Cards
Here are more stickers cards to inspire you to use those beautiful stickers that you can find almost everywhere. Stick them onto a card blank, write a personal note and make someone smile.
Above are some of the stickers cards I have created. These are simple and quick cards that you can easily make especially if you are in a hurry.
---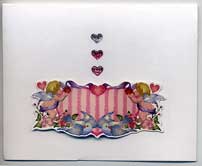 This can be used for a quick congratulation card for a wedding.
---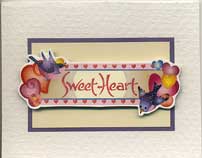 Here's a Valentine Card using just one sticker and layering it onto cream and lilac color cardstocks before attaching it to the white blank card.
---
Three heart stickers used to embellished this pink polka dots card.
---
The cards in the pictures are done by using hearts' and angels' stickers, sticking them on blank card stocks. I love the colorful glittering stickers and find that all I need is to find some good quality cardstocks to bring out the beauty of these stickers.
I also stick some on card scraps and cut them out, trimming closely to the stickers, then use double-sided tape to paste them on the card blanks. This gives the image a 3D effect.
I love to use one or two to decorate my envelopes too.
If you find this site helpful and like to enjoy the spirit of giving too, please leave a donation to help towards the ministry of card sending and the upkeep and maintenance of this informative website.
to top of page : More Stickers Cards

Back to Making Greeting Cards Homepage
Copyright ©2004-2007 www.making-greeting-cards.com. All Rights Reserved.