More Stickers Cards
Here are more stickers cards to inspire you to use those beautiful stickers that you can find almost everywhere. Stick them onto a card blank, write a personal note and make someone smile.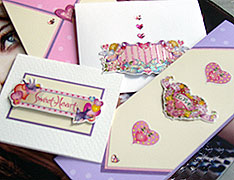 Valentines Cards with Stickers
Above are some of the stickers cards I have created. These are simple and quick cards that you can easily make especially if you are in a hurry.
---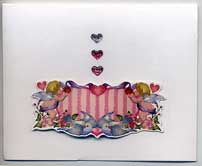 Wedding Card
This can be used for a quick congratulation card for a wedding.
---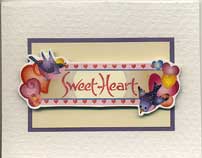 Sweet Heart
Here's a Valentine Card using just one sticker and layering it onto cream and lilac color cardstocks before attaching it to the white blank card.
---
Heart Polka Dot Card
Three heart stickers used to embellished this pink polka dots card.
---
The cards in the pictures are done by using hearts' and angels' stickers, sticking them on blank card stocks. I love the colorful glittering stickers and find that all I need is to find some good quality cardstocks to bring out the beauty of these stickers.
I also stick some on card scraps and cut them out, trimming closely to the stickers, then use double-sided tape to paste them on the card blanks. This gives the image a 3D effect.
I love to use one or two to decorate my envelopes too.
---
Making Greeting Cards!

›
Sticker Cards
› More Stickers Cards
Like This Site?
Celebrating Creativity! Connecting Lives!
~ bringing cheer one card at a time.
Help Me Get The Word Out

If you like making greeting cards and want to encourage others to do so because of its many benefits, please help me share this website with your friends. Just click on the share buttons below to share with your fans and friends. Thank you for sharing the good things in life :-)