Anniversary and Happy Birthday Cards by Sheerah Teo Page 4
Sheerah Teo Page 4 is mostly anniversary and happy birthday cards handmade by Sheerah Teo from Malaysia.
Sheerah has 3 other pages of cards showcased here. To view all her cards, just scrolled down and you will see links to other pages of her lovely creations. Page 1 showcases Happy Birthday cards and Page 2 and 3 are all Chinese New Year Cards. Check them out if you have not done so.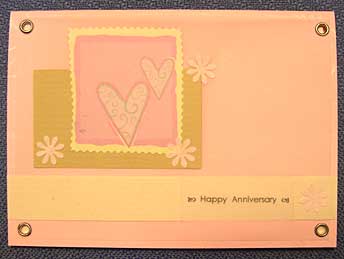 A Happy Anniversary Card using layering colored cardstocks, eyelets, punches and decorative scissors.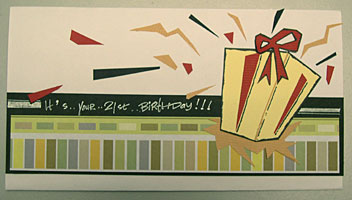 Sheerah cuts a parcel using different colored paper and layered it on a peach colored cardstock. A lovely Happy 21st Birthday Card! Look at the inside of this card in the next picture!.
It's a pop-up card! A handmade pop-up card with a playful message when you open it - "Pls turn 180 degree". See next picture to see the whole message.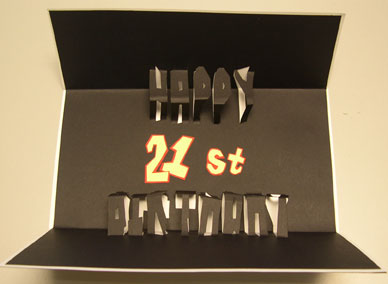 And here's the message. Happy 21st Birthday!
Sheerah cuts the two words "HAPPY" and "BIRTHDAY" on the black cardstock and pastes the cut-out "21st" on the card.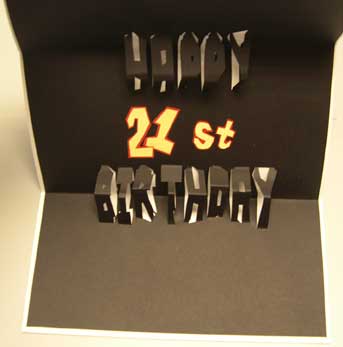 And here's another view of the pop-up birthday card.
to top of page : Cards by Sheerah Teo Page 4

Cards by Sheerah Teo Page 1

Cards by Sheerah Teo Page 2

Cards by Sheerah Teo Page 3

To Readers Cards Index Page

Back to Making Greeting Cards Homepage
Copyright ©2004-2006 www.making-greeting-cards.com. All Rights Reserved.