Cards by Sheerah Teo Page 3
Here is another page of Chinese New Year cards by Sheerah Teo. Page 3 is a page of handmade Chinese New Year cards with the Chinese character "Chun" meaning "Spring".
Sheerah uses red cardstock, vellum, punches and paper cutting to create this beautiful Chinese New Year card.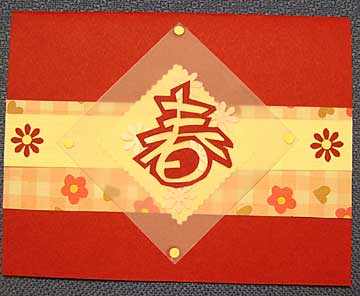 Die-cut Flowers Spring Card
Orangy color cardstock and the same paper cutting for the chinese character "spring"
Spring Blossoms Card
Another Chinese New Year card by Sheerah Teo. Here Sheerah used three different kind of punches to create this card - corner, border and a flower punch to represent the plum blossoms which signify spring.
Sidebar: This year I decided not to have plum blossoms in the house but instead I bought some lion heads branches which I placed inside a big chinese vase. That will be the main decoration for this Lunar New Year.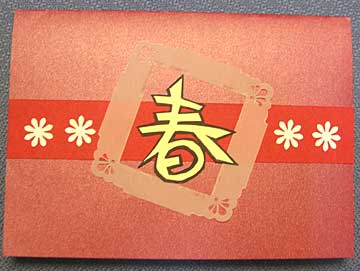 Simple Spring Card
Another Chinese New Year card handmade by Sheerah Teo.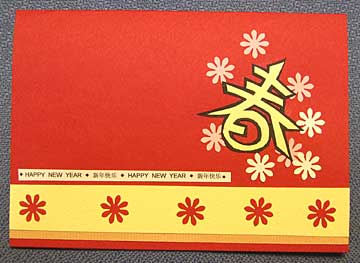 Happy New Year!
Here's another homemade Lunar New Year card I received from Sheerah.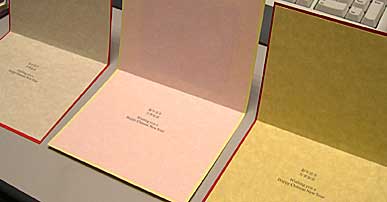 Inside Cards
Inside the handmade Lunar New Year cards, Sheerah printed some beautiful card inserts for each card.

More Chinese New Years Cards by Sheerah
---
Making Greeting Cards!

›
Cards by Readers
› Here
Like This Site?
Celebrating Creativity! Connecting Lives!
~ bringing cheer one card at a time.
Help Me Get The Word Out

If you like making greeting cards and want to encourage others to do so because of its many benefits, please help me share this website with your friends. Just click on the share buttons below to share with your fans and friends. Thank you for sharing the good things in life :-)