Christmas Ornaments
Make your own Christmas ornaments and add them to your handmade Christmas cards as part of the design. Recipients of your Christmas cards will love them.
They can detach them from the cards and hang them up on their Christmas trees. Below are some ornaments created by members of Making Greeting Cards group.

Christmas Ornaments Challenge Cards
There are three Ornament Cards showcased below. All are beautiful creations by passionate card-makers who love the craft of card-making and have been spending most of their leisure time creating homemade greeting cards for family and friends.
Have a look at these time-consuming masterpieces...
Notes : Here's an ornament created with images of a snowman and Santa Claus. Inside the oval are loose micro beads which make a sound when shaken.
Ho! Ho! Ho! Is Santa sitting on the snow or are those his mittens? Love this festive card so much. So much work and attention put into this greeting card; embossing, colouring and the shaker card technique so well executed. What a fun card!
WCC Ornament card
Comment: decide to make a shaker ornament
Created By: Karen Knegten
Detached Ornament by Karen Knegten
Notes: A scan of the Shaker Ornament detached from the Christmas card.
Created By: Karen Knegten
---
Festive Ornament Card by Valerie Smith
Snowflake Ornament Christmas Greeting Card
Comment : red card, heat embossed snowflake & greetings
Created by : Valerie Smith - Canada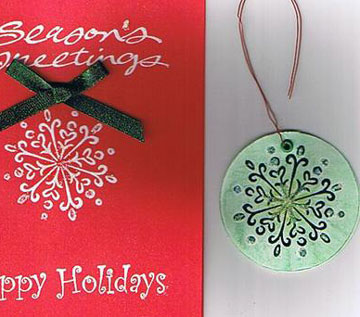 Valerie's Christmas Card with Detached Ornament
Note : Snowflake Ornament detached from the bright red card front. Notice that Valerie also stamped the same snowflake image onto the card front and embossed it in white like the Season's Greetings and Happy Holidays greetings so that when the ornament is removed, the Christmas greeting card still looks complete.
The dark green ribbon completed this lovely greeting card and also served as an anchor to attach the ornament to the card.
Comment  : heat embossed two snowflakes, added sparkles, chalked background
Created by : Valerie Smith - Canada
---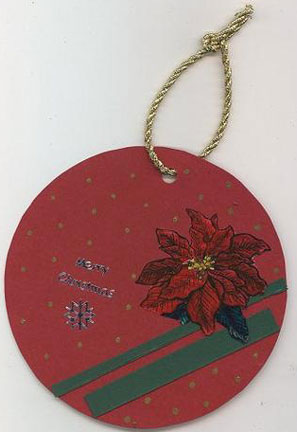 Christmas Circle Ornament by Ying Pang
Notes: Here's a round ornament created by Ying from Malaysia.
Created By: Ying Pang
Love this circle card ornament. It will be a beautiful one to hang on any Christmas tree. Love the dark festive red colour of the card stock used and the gold string as well as the touch of gold on the poinsettia flower, gold dotted background and on the greetings and snowflake. A traditional red, green and gold theme. Lovely, Ying Pang!
Thank you to all three ladies for participating in this fun challenge.
---
Making Greeting Cards!

›
Christmas Cards
› Ornament Cards
Like This Site?
Celebrating Creativity! Connecting Lives!
~ bringing cheer one card at a time.
Help Me Get The Word Out

If you like making greeting cards and want to encourage others to do so because of its many benefits, please help me share this website with your friends. Just click on the share buttons below to share with your fans and friends. Thank you for sharing the good things in life :-)
Top of Christmas Ornaments