Card Making For Kids
Simple Rubber Stamping
Card Making for Kids is a section on this cardmaking website for children. Kids love rubber stamping so we will use mainly rubber stamps, stamp pads, colour pencils, colour markers, and glue to entertain children and develop their abilities to express themselves through colours, compositions and drawings to make greeting cards.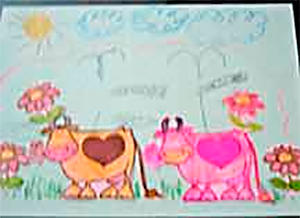 Cows in the Garden
Card Making Supplies Needed:
Rubber Stamps - small and medium sizes (easily handled by a child's hand)
Non-Toxic Dye Ink Stamp Pads: Black or Dark Green
Colour Pencils
Colour Markers
A4 sized drawing paper
Scissors
Card Making Instructions
Fold A4 sized drawing paper into half to make a card blank.
Help the child to stamp some images on another sheet of drawing paper with black or dark green ink pads.
Let her color the stamped images with markers or color pencils.
Help her cut out the images.
Let her glue the stamped images into the front of the card blank.
Help her write a note to whoever she wants to send that card to. They usually say that the card is for mommy or daddy. If so, the added anticipation of waiting for the card to return home will be a bonus. And see her face when the card arrives for mommy or daddy.
Let her decorate the back of the card.
Put in an envelope and address it.
Paste postage stamp on envelope and bring her to the post office to post the card. Step by step, explain to her the whole process of making a card to posting that same card. Have fun! And I believe you will have as much fun as your child.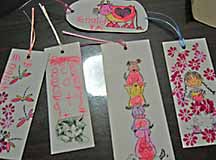 Bookmarks Created by Children
Card Making for Kids
Here Belinda was spending happy time at my place creating some bookmarks (refer to the bookmarks above).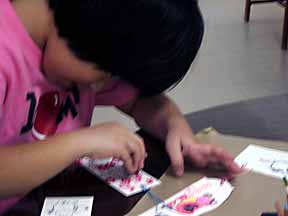 Rubber Stamping
Rubber stamping... colouring with colour pencils... drawing...
She is absolutely enjoying herself. What a wonderful time we had.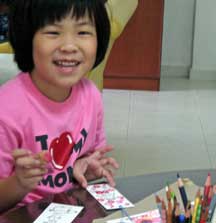 Happy Time!
Some Useful Tips
Let her glue the stamped images wherever she likes.
You will also find that she will not stop at just pasting the cut-images to the card blank.
Most kids will also add their own drawings to the whole picture; e.g. clouds, flowers, sun, and especially their names. My nieces and nephew always print their names to their artworks. I guess it's a child's sense of pride in his or her own handiwork.
Do not make negative remarks about a child's drawing or choice of color.
Encourage the child to express herself. If you do not understand her drawing or choice of color used, just ask her and she will readily tell you why. You'll be amazed by her explanation.

Any Ideas for Crafting with Kids?
Do you have any idea or project to add to this section on card making for kids? Please feel free to email me your "card making for kids" contribution and I will turn it into a web page linked from the bottom of this page.

---
Making Greeting Cards!

›
Cardmaking for Kids
Like This Site?
Celebrating Creativity! Connecting Lives!
~ bringing cheer one card at a time.
Help Me Get The Word Out

If you like making greeting cards and want to encourage others to do so because of its many benefits, please help me share this website with your friends. Just click on the share buttons below to share with your fans and friends. Thank you for sharing the good things in life :-)