Friendship Cards
because friends matter
Friendship cards for good friends because your buddy is your best support and encourager in bad times and in good times... they are the people you want around you because without them there's no fun at all.
Don't walk in front of me;
I may not follow.
Don't walk behind me;
I may not lead.
Just walk beside me and
be my friend. 
- Albert Camus
So here, I want to dedicate all these friendship greeting cards to all my friends far and near. Also to those friends who have gone ahead to Paradise before me. One day, we will meet again.

Friends Quotes
Friends are like a good bra, supportive, hard to find, and always close to your heart! 

Of all the friends I've ever met, you're the one I won't forget and if I die before you do, I'll go to heaven and wait for you.
Friendship quotes are great for adding into the inside of your handmade cards. Or you can even incorporate it into the front design just like how the cards below - using a stamped quote or copy and paste one into your Word document or Photoshop Element file and change the font, and layout to suit the design of your best friends card
Click here to view all the Friendship Quotes
Friendship Cards
Just For You Card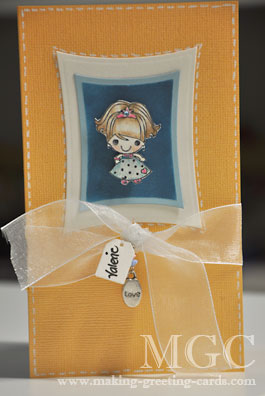 Made this card for a lady friend who loves handmade greeting cards. So a Just for You! card to say Hello.
Click here to view this card with step-by-step cardmaking instructions.
---
Hand Painted Card For A Facebook Friend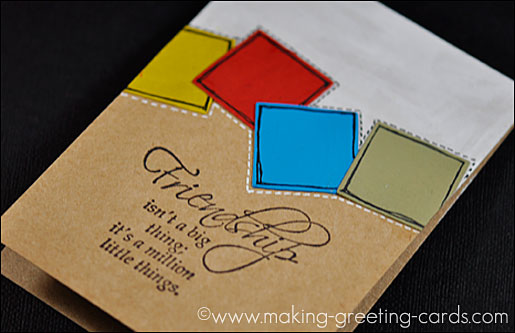 I painted this card for a friend I met on Facebook.
click here to view instructions for making this acrylic painted greeting card
---
Pink Friendship Greetings
Another card using the same rubber stamped image (Just notice that I'm always reaching out my hands to this stamp - been using it for a few of my handmade cards for friends.)
 click here to view instructions for making this pink friendship greeting card 
---
Butterfly Dream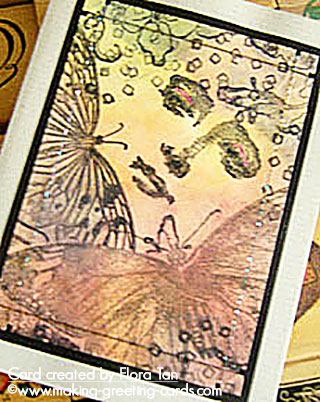 Many of my best friends love are women who love butterflies so here's one I created of a dreamy face of a pretty woman surrounded by fluttering butterflies.
click here to view instructions for making this card.
---
Thinking of You Card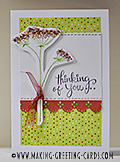 A bright cheerful Thinking of You card for a friend who is a full-time caregiver to her aged mother. Just a card to bring cheer to her heart and to remind her that she's not alone.
Click here to view this card and card making directions
---
Japanese Design Friendship Card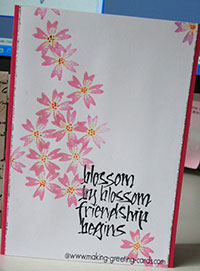 A Japanese style spring card - also a friendship greetings for a girl friend with sakura blossoms and message: blossom by blossom friendship begins.
Click here to view this card and card making directions
More Card Ideas
I hope to create more friendship greeting cards and upload them here with directions and supplies used. So do bookmark this cardmaking website and check back often for more card designs and ideas.
Or better still, subscribe to my enewsletter and stay informed of new cards uploaded here. Just click here to go find out more about this card-making ezine.
You can also or join my Making Greeting Cards Facebook group.
---
Like This Site?
Celebrating Creativity! Connecting Lives!
~ bringing cheer one card at a time.
Help Me Get The Word Out

If you like making greeting cards and want to encourage others to do so because of its many benefits, please help me share this website with your friends. Just click on the share buttons below to share with your fans and friends. Thank you for sharing the good things in life :-)