Best Card Making Books
These are the best card making books in the market , at least for me personally. I'm one bookworm and have especially a love for collecting crafts books not just on card making but also on bookbinding, journal making, scrapbooking and any other kind of paper crafts.

So don't be surprised if you found one of these crafts & hobbies books on this page.
Well, I have two cabinets in my living room as well as boxes full of crafts books in the store room.  And here are just a few that I feel are the best card making books for sourcing cardmaking ideas and learning how to make greeting cards at home and/or with children.
These are all about card making, or are books related to card-making; for example color study as well as wordings for cards.

Other Recommended Cardmaking Resources
Card Making Magazines - More likely than not, we have subscribed to a monthly or bi-monthly card making magazine. Is it necessary? And if I'm interested in a subscription, which should I choose? Here are a few you might like to look into.
Asian Card Making Books - Oriental greeting cards - are they any different? Have a look at these card making books by Asian authors.
More Card Making Books - What other kind of books will contribute to the art of cardmaking? Here are some that I find useful.
Best Card Making Books for Reference & Inspirations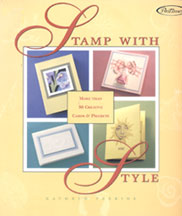 "Stamp with Style : more than 50 creative cards & projects" 
By Kathryn Perkins 
I should say that this is my very first card making book. It was given to me by my sister-in-law together with a border rubber stamp which she bought while holidaying in Australia. The book was arranged in months from January to December. Great card ideas for each month of the year. 

---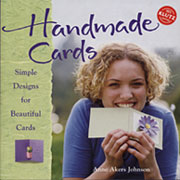 "Handmade cards : simple designs for beautiful cards" 
By Anne Akers Johnson 

A book by Klutz written for young girls so the creations in this book are mostly girly stuffs.  In fact I used the template to create the flower Birthday Card which you can view by clicking here.
Although it's meant for young girls, I find that the templates and tools included are very useful. 
---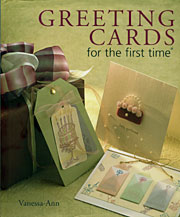 "GREETING CARDS for the first time" 
By Vanessa-Ann 

Though written for beginners, but just looking at the book cover is enough to make me reaching out for my card making supplies. Lots of questions beginning with "How do I design a card, using ...". Also include some card sayings. Beautiful photographs and step by step instructions. Great book!
Because of time constrain, I'm only able to add these few good card making books. But I will definitely add more in the days to come when I have settled down and sorted out my craft supplies and resources.
I will try to keep you posted at my Facebook page as well as e-newsletter. So do sign up for either or both.
And if you're looking for birthday card ideas, just click here to go to my birthday site for reference or inspiration.
Meanwhile, keep creating and have fun!
---
Like This Site?
Celebrating Creativity! Connecting Lives!
~ bringing cheer one card at a time.
Help Me Get The Word Out

If you like making greeting cards and want to encourage others to do so because of its many benefits, please help me share this website with your friends. Just click on the share buttons below to share with your fans and friends. Thank you for sharing the good things in life :-)