Starting A Greeting Card Business
Can a greeting card business makes you enough money to pay all your bills?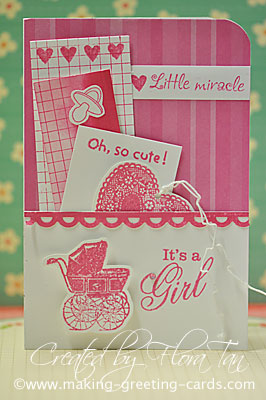 Baby Girl Card With Tags
What work at home business are you thinking of? Is it one that you can start easily without spending large sum of money? Is it one that will make you enough money to allow you to quit your full time job? Or even just to help you pay your bills each month.

What is your dream? Is it to work at home and be able to spend more time with your children?
Well, I believe that at one time or another, the thought of starting a greeting card home business crosses our mind. It did crossed mine and I'm happy working a home business sending greeting cards.
We love greeting cards so much so why not make it a career - a home based business, right?
In my research about starting a greeting card work at home business, I came across the following amazing facts.
Do you know...
that the greeting card business is a 7.5 billion dollar industry.
that women buy more cards than men but when men buy cards, they tend to spend more on the card.
that women don't just buy a card but will purchase several cards at one time.
that out of 100 families, 90 families buy greeting cards and each family purchase an average of 30 cards a year.
that an average person receives about 20 cards a year; most of these are birthday cards.
that an average person send out 10 cards a year; that's about a card a month.
that most people love to receive a greeting card with a personal note; makes them feel they are special and important to someone.
that most people prefer to send a personal handwritten note or greeting card than the easy email message or an sms for special occasions and events; makes it truly special for the other person.
that there are at least three thousands greeting card publishers in the States alone and the two biggest greeting card publishers are Hallmark and American Greetings.
that companies send greeting cards to build relationship with their clients and customers. e.g. insurance agents usually send out birthday cards to their clients.
that the most sellable cards for Everyday Cards and Seasonal Cards are Birthday cards and Christmas cards respectively.
What do you think of the above facts concerning the greeting card industry? Is a greeting card business a lucrative business?
Are you right to think about starting a greeting card home business?
If you ask me, my answer is that it can be a highly successful business. And since it is a profitable business to be in, why not invest some time and money on starting a greeting card business?
Let's realise your dream by taking constructive actions. Because without action, your dream of a successful greeting card work at home business will never be a reality.
Your dream of staying home to look after your children, of never ever having any money worries, and being able to sleep soundly at night knowing that there's more than enough money to pay all your bills each month.
Yes, even your dream of having a fully equipped art studio to create art leisurely.
A person is only as big as the dream they dare to live. ~ Anon.

Dare to dream! Dare also to live your dream. Make it a reality.

"Take time to deliberate; 
but when the time for action arrives, 
stop thinking and go in." 
~ Napoleon Bonaparte
So why not take action today? Learn how you can start this home based greeting card business and work it to make enough money to pay for both your own as well as your family's needs and wants.

Check Out These Other Business Articles
---
Like This Site?
Celebrating Creativity! Connecting Lives!
~ bringing cheer one card at a time.
Help Me Get The Word Out

If you like making greeting cards and want to encourage others to do so because of its many benefits, please help me share this website with your friends. Just click on the share buttons below to share with your fans and friends. Thank you for sharing the good things in life :-)