Unique Wedding Greeting Cards
- one-of-a-kind wedding cards -
Homemade wedding greeting cards are unique. They are one-of-a-kind wedding cards that the bride and groom will treasure.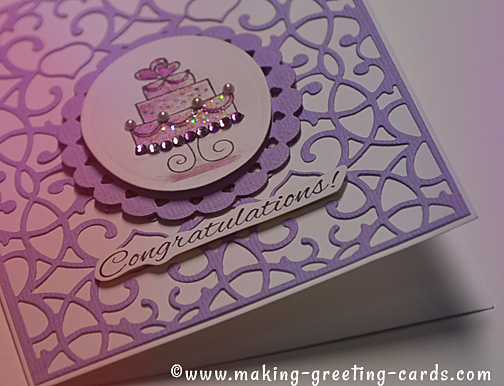 So why not make some special cards to send best wishes to whoever's getting married?
Maybe, your beautiful creation might be placed and preserved in your friend's wedding scrapbook for future generations to view.
Useful Tips For Making Wedding Cards
Follow the wedding theme. You can find out from the wedding invitation you received. Note the color and check whether there's a special theme; for example, an informal beach wedding, or a traditional wedding.
If it's for a special friend, maybe a funny wedding greeting card or include something your friend would love; a joke, a poem or an embellishment that will reminds her of something you both share.
Don't know much about the couple? Well, white, cream or any other pastel colors, heart, wedding rings, wedding cake and pink roses should be quite okay to use in your handmade greeting cards.
Wedding Cards & Tags Made
Cake Wedding Card

Wedding greeting card made during a stay-at-home period. This is a congratulations card for the bride and groom using Spellbinder's frame and stamps by Hampton Art.
A Quick Homemade Wedding Card

This is a quick congratulations card made on the spot.

Sometime back, I had to make one wedding congratulation card real fast. My mom and I had to attend a wedding dinner. The groom was the son of my mother's best friend.

Usually, we give cash in a red packet. But because I make my own cards, people expect a homemade card from me whatever the occasion. So a homemade wedding card it was.

Note: Also on this page, you will be able to view some cards created by readers.

Handmade Wedding Tags

Some tags made for a wedding to use as favors or to go with wedding presents.
Hope to make more of these congratulations cards and add them here. So do check back often or join my Making Greeting Cards Facebook group or Google+ community.
Like This Site?
Celebrating Creativity! Connecting Lives!
~ bringing cheer one card at a time.
Help Me Get The Word Out

If you like making greeting cards and want to encourage others to do so because of its many benefits, please help me share this website with your friends. Just click on the share buttons below to share with your fans and friends. Thank you for sharing the good things in life :-)