A Gallery of Butterfly And Dragonfly Cards
I love to make butterfly and dragonfly cards. They are fun to make and lovely to look at.  Here on this page is a gallery of cards with dragonflies and butterflies including some created by friends. 
You will also learn the various methods to adhere images to your cards and making your card design pops.
Have a look!
The above was created by adhering a shocking pink die-cut butterfly onto a pale pink watercolored card stock stamped with dragonflies and brushed with a stroke of pink water colour on the wings.
Making Butterfly and Dragonfly Cards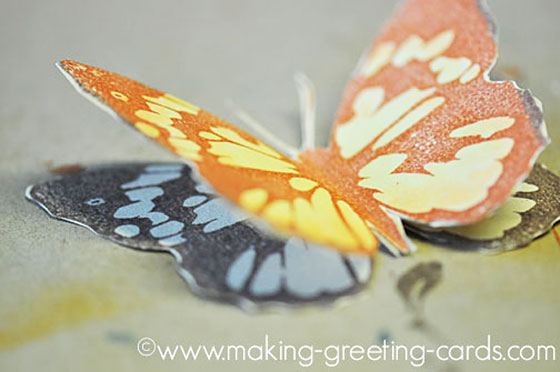 3D Butterfly on Card
There are various ways to making butterfly and dragonfly cards. Some would just print or stamp the image on card stock and colour the image. We might even go further by adding dimensional glue or liquid to give it a kind of 'popping out' effect. 
Another way would be to add glitter glue to add sparkle to the wings.
We can also cut out or die cut the butterfly and dragonfly images and layer on top of one another to give a 3d look. The above 3D Butterfly on Card is an example.
One simple method is just crease-fold the wings at the body then add a dap of glue to the body and stick it onto the surface of the card at the desired position. The pink die cut butterfly card is one example.
Below photo shows a method that many crafters use to make their butterfly and dragonfly cards stand up. These is done using double-sided foam tape to lift up the wings. The body is sticked down on the surface with adhesive.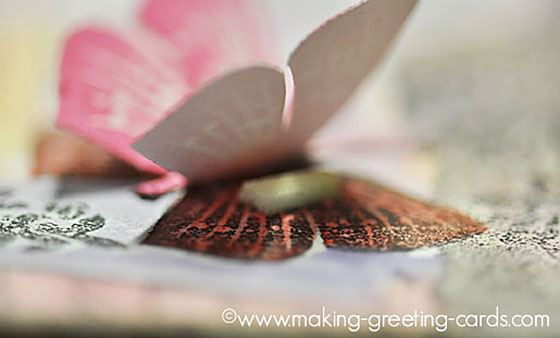 Taking Flight!
Examples of Butterfly Cards
Below is a handmade card I received from my Canadian friend, Valerie Smith. Isn't it a beauty? She stamped and embossed the butterfly, cut it out and layered it onto a pink background and trimmed around the cut-out butterfly giving it a narrow border. Then layered it over a pink washed card which was layered and layered over various coloured and designed card  stocks and paper. Love it!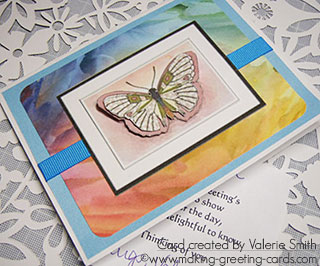 Butterfly Card Created by Valerie Smith
---
Here's one I did one day just having a spot of fun.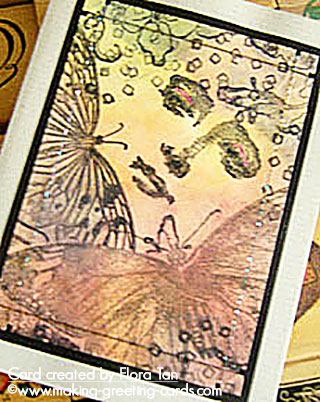 Butterfly Dream Card
---
Below is a card using three stamped dragonfly tags by a reader. I really wish I know who's created this lovely card. If you are the one, please contact me.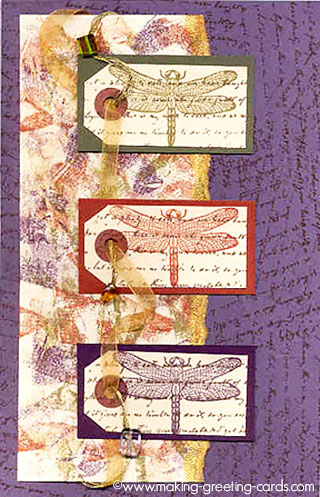 Dragonfly Tags Card
---
Here's one made by stamping on acetate, sprinkling embossing powder and heating to melt the powder. The piece of acetate is cut to size and layered and fixed over the decorated card stock by attaching with eyelets.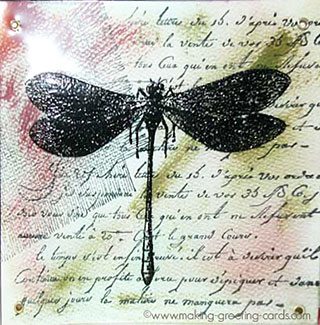 Acetate Dragonfly Card
---
I love the colour used for this handmade card. A specimens of butterflies stamped on vellum and layered over a background designed using the same colour ink. Machine stitches to attach the vellum over the front of the background card stock gives this a natural earthly look.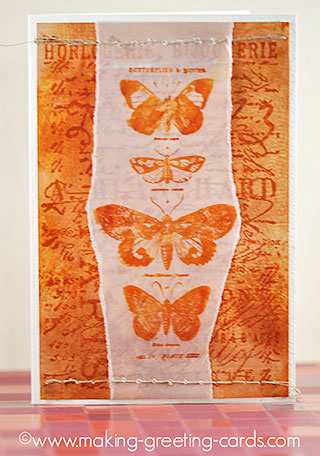 Butterfly Specimens Greeting Card
---
Trading card created with rubber stamps of block butterflies and various stamps of dragonfly.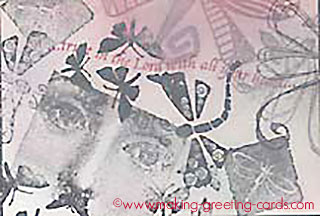 Butterfly and Dragonfly Trading Card
---
What a lovely bookmark! This was another I received long long ago through an exchange. Love it!

Dragonfly Bookmark
---
Making Greeting Cards!

›
Finding Cardmaking Ideas
› Butterfly & Dragonfly Cards
Like This Site?
Celebrating Creativity! Connecting Lives!
~ bringing cheer one card at a time.
Help Me Get The Word Out

If you like making greeting cards and want to encourage others to do so because of its many benefits, please help me share this website with your friends. Just click on the share buttons below to share with your fans and friends. Thank you for sharing the good things in life :-)