Cake Wedding Card
Saying 'Congratulations!" the homemade way
Lilac cake wedding card decorated with pearls, sparkling gems and topped with two purple hearts.
Lovely colors used to create this wedding greeting card with die-cut background and frame for an elegant handmade greetings.
Love is composed of a single soul inhabiting two bodies. 
- Aristotle
Wedding Cake Greeting Card
There was the haze because of land burning in Indonesia and so we got to stay home. It wasn't easy but I kept myself occupied making cards like this cake wedding greeting card.
I found this pack of unmounted rubber stamps by Hampton Art called Love and Marriage. It's all for sending best wishes to the bride and groom on their wedding. See image below. Look so inviting, right! Look at the wedding dress and the tier cake and that gorgeous ring and lovely heart. Just waiting and beckoning us to create. 
Do you realize that some images are so attractive that you feel so happy just looking at them? And you know that they are definitely going to bring you hours of creative joy. Well, this package of images is like that to me.
It was new and have never been used. Well, no wedding invitations received but no harm making one or two just in case.
Making Cake Wedding Card
Cut white cardstock to size: 8.25" x 5.5"

Score at center and fold to create a basic card.

Die cut background onto a lilac color card stock.

Die cut Spellbinder's oval frame with lilac color card stock.
Die cut and embossed Spellbinder's oval on white cardstock.


Stamp cake with black Memento ink.

Color and add glitter glue, pearls and gems.

Attach to lilac oval frame with double-sided foam tape. 
Glue background to front of white card.
Layer oval frame and stamped cake onto lilac background.
Stamp Congratulations! with black Memento ink.
Use double-sided foam tape to attach to card below oval stamped cake image.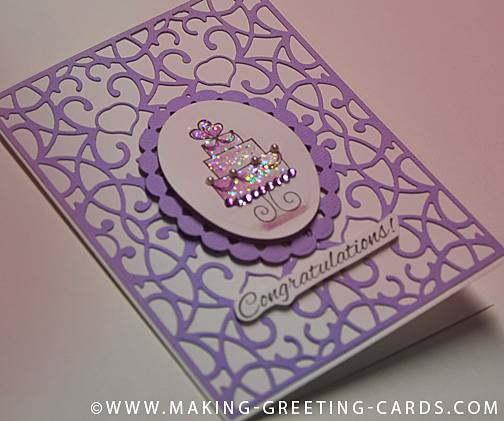 That's it!
One wedding card done! Now to make more...
More Quotes on Love for Weddings
Being deeply loved by someone gives you strength,
while loving someone deeply gives you courage.
- Lao Tzu
A woman knows the face of the man she loves
as a sailor knows the open sea.
- Honore de Balzac
A man is already halfway in love with any woman
who listens to him.
- Brendan Francis
Like This Site?
Celebrating Creativity! Connecting Lives!
~ bringing cheer one card at a time.
Help Me Get The Word Out

If you like making greeting cards and want to encourage others to do so because of its many benefits, please help me share this website with your friends. Just click on the share buttons below to share with your fans and friends. Thank you for sharing the good things in life :-)