Advanced Cardmaking Supplies
For Making Beautiful Greeting Cards
Cardmaking supplies can be very expensive so it is important to know what to invest in so as not to burn too big a hole in your pocket. Here are more craft tools and supplies you will need to make your card-making time fun and rewarding.

In My Art Room
Just today, I received an email from a husband of a cardmaker. He told me that his wife loves making greeting cards and has a room full of card-making supplies. He asked whether I would like to buy EVERYTHING.
What do you think is my reply?
Anyway, I too have a room full of craft supplies and some have not been used thoroughly.  I have promised myself that I will use them before purchasing any more cardmaking supplies. 
So to have more card making tools and supplies beside the basic list, are they really necessary?
I will let you judge yourself.
For me, each and every one of these featured here are essential tools for my card making as well as scrapbooking needs.
But for other crafters, they might just be additional tools and supplies they could do without if any of these do not fall within their budget.
Cardmaking Supplies
Paint and Watercolors
I like to use poster paint when working with children because it is easy to clean up and inexpensive. When I'm making cards myself, I use acrylic paints or water colors. Acrylic paints can cover wide area and can also be used with paste to make interesting textures.
Tip: Use two or three acrylic paint colours to paint a background using a broad brush by making splashes or sweeping the brush loaded with each colour across your paper surface.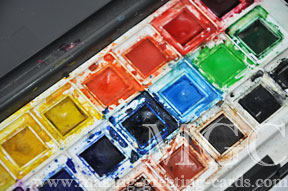 Dale Rowney Watercolor Palette
Watercolors on the other hand are transparent and cards painted with watercolors have a softer and lighter feel and look. I tend to use my watercolor palette from Daler-Rowney extensively.
Certainly, you should add a watercolor palette into your cardmaking supplies list.
Paint Brushes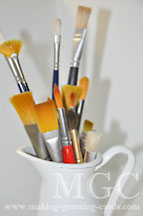 You will need brushes of different sizes including some stencil brushes. I have sizes 000 for thin line works and tight corners, size 3 and 4 for most projects and 1" flat brush for washes or backgrounds.
Do wash your brushes after every project so that they can last longer.
Pencils, Crayons and Markers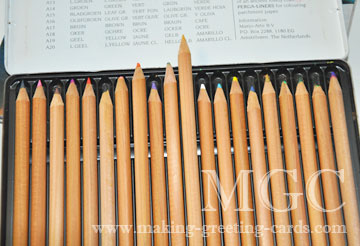 Prismacolor Pencils
I love to use watercolor pencils and use them often on images that I print using my computer printer. With color pencils, you have more control especially on print that are not permanent. You will also need some sharp lead pencils for making marks or tracing an image or template, and color markers for coloring directly on the rubber stamps or on stamped images.
I have a set of inexpensive Staedtler Karat Aquarell pencils and also the more expensive Prismacolor Pencils. Both are used extensively and many times I used both on a card design because of the colors I need for each project.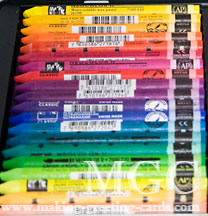 Neocolor Watersoluble Wax Pastels
As for crayon, my preference are Neocolor II Watersoluble by CARAN d'ACHE from Switzerland.
The best way to use it is to take a white plastic board and make small squares of the colors on the white board. (refer picture below)
Then when you need to use, pick up the color with a damp brush.
This way your crayons will last longer.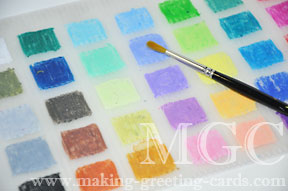 DIY Crayon Palette
Bone Folder
You need this to make a neat fold on your cardstocks especially useful for making a crease on the base card.

Metal Ruler
A 12" long metal ruler is a must and if you buy big sheets of paper or cardboards, you will need a longer metal ruler for cutting into smaller sheets.

Heat Gun and Embossing Powders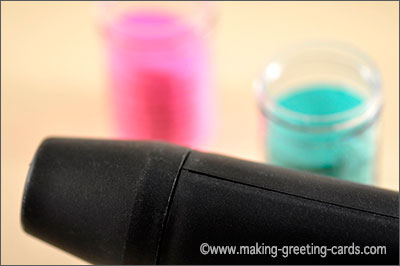 To make your cards even more beautiful and having that raised print look, you just need to have a heat gun and some colorful embossing powders.
A heat gun is not the same as a hair dryer. Unlike a hair dryer,  a heat gun produces heat without any air blowing so that your powder do not fly all over.
Embossing powders come in many different colors. I use the Clear Embossing Powder the most. You will also need Detail Embossing Powder for more detailed rubber stamps like those from Magenta.

Storage Boxes
I use lots of those plastic storage boxes for my rubber stamps and paper. There are tier plastic drawers with rollers.
Die Cut Machine and Dies
Now our cards are looking better because of dies and machines like Cuttle Bug, Cricut and the Big Shot die cutting machines.
Here's a white flower made with cardstock using a die design.
It's a test piece I made for a church project.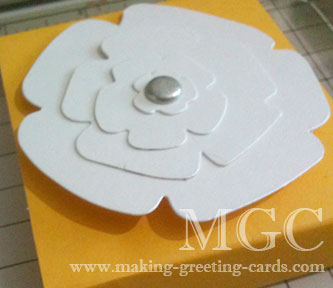 Die Cut Flower
Die cutting machines can certainly help in your card-making and many do have one or two in their cardmaking supplies. But if your budget do not allow, you can draw or trace a design and cut out by hand. Or you could borrow a friend's or ask your scrapbooking store whether they can help you cut a design.
---
Making Greeting Cards!

›
Basic Card-making Supplies
› Advanced Supplies
Like This Site?
Celebrating Creativity! Connecting Lives!
~ bringing cheer one card at a time.
Help Me Get The Word Out

If you like making greeting cards and want to encourage others to do so because of its many benefits, please help me share this website with your friends. Just click on the share buttons below to share with your fans and friends. Thank you for sharing the good things in life :-)