A Chinese New Year greeting card using plum blossoms die cuts to frame the Chinese greetings.
Just follow the simple step by step instructions given below to make this blossom Lunar New Year greeting card.
Below is a frame template instructions for making your own frame like the one in this Lunar New Year card. Just follow the step-by-step instructions to cut out a template that you can then lay on your cardstock to trace onto it and use a pen-knife to cut it out.
This is for those who do not own a Sizzix die-cut machine. If you have a Cricut Expression or Silhouette, then you should be able to cut one like that onto gold card stock and then rubber stamp with a background. 
Hope this is helpful for those who do not have a die-cut machine.  Anyway, this is a handmade card so you are right on the mark :-)
That's it! Just add a message inside the card, sign and placed inside an envelope and your Chinese New Year greeting card to send to wish someone 'Gong Xi Fa Cai' is ready for posting.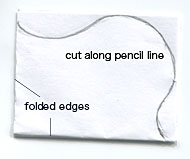 First, fold a piece of 3.5" x 4.5" copy paper into quarters.
Then draw a wavy curve line along the two edges with pencil.
Cut on the pencil line.
Unfold the paper and you should have a template to work with.
Place it over the gold card stock and trace lightly with pencil around the copy paper template.
And finally, remove template and use a sharp knife or scissors to cut the gold card along the pencil line.