Christmas Cards By Kristi Edney
Six Christmas Cards by Kristi Edney Featuring Snowman, Angel, and Poinsettia Flowers
Christmas cards by Kristi Edney from Bowie, MD, USA. Kristi sent in these lovely handmade Christmas greeting cards.
Kristi said: Using a piece of card stock, I printed the pattern on and glued it on the folded card. Through the button holes of the flowers, I tied a piece of gold thread. Glued the flowers to the card stock and covered the holes of the buttons with gold brads!

Kristi said: Pieced together poinsettia flowers I had in my collection and coloured them. Put rhinestones in the middle of each flower. Used a punch on two edges of card stock and glued the flowers onto the card stock. Then glued it on the card. Used light green rhinestones and placed them on each side of the card stock!

See More Christmas Cards by Kristi Edney
Kristi said: Glued on a green piece of ribbon. Using one of Magnolia's Stamps, stamped it on the card and coloured it. Brushed on Aleene's Glitter Snow at the bottom of the stamp. Put a snowflake brad on above the heads! Using Microsoft Word printed out "I LOVE SNOW!" and glued it to the card!

Kristi said: Cut out the word "Noel" from a painting I had done years ago, coloured it and glued it to the card. Also from another painting I had done, pieced together the flowers, bells and ribbons, colored it and glued them to the card. Using a confetti snowflake, I stuck it to the card and glued a rhinestone in the middle.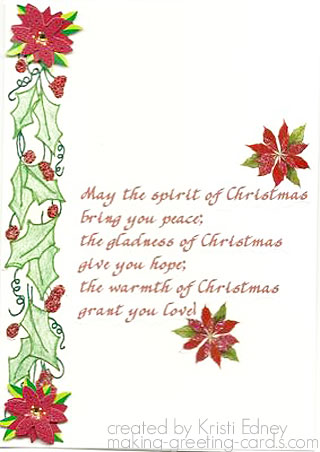 Kristi said: Cut out and coloured a strip of holly leaves, then glued it on the card. Using colored glitter glue, made berries here and there. Printed out the quote and glued it in the center of the card. Placed poinsettia's here and there!

The Spirit of Christmas
May the Spirit of Christmas
bring you peace;
the gladness of Christmas
give you hope;
the warm of Christmas
grant you love!
For more card verses, click here.
Kristi said: Placed a piece of clear/star-like card stock paper over the whole front of the card. Stamped an angel from Magnolia Stamps onto a piece of vellum, coloured it and placed it in the middle of the card. Stuck snowflake brads and bows around the vellum!
Lovey Christmas cards by Kristi Edney!
Thank you, Kristi for sharing with us your handmade Christmas greetings.
If you find that handmade cards are the best, and want to see more, click here for more handmade cards by other card makers.
---
Making Greeting Cards

›

Christmas Cards
› Here
Making Greeting Cards

›

Card Makers
› Here
Like This Site?
Celebrating Creativity! Connecting Lives!
~ bringing cheer one card at a time.
Help Me Get The Word Out

If you like making greeting cards and want to encourage others to do so because of its many benefits, please help me share this website with your friends. Just click on the share buttons below to share with your fans and friends. Thank you for sharing the good things in life :-)