Personalised Christmas Photo Cards

These handmade Christmas Photo Cards were created by the lovely ladies at MakingGreetingCards. To receive any of these photo cards is to receive a keepsake that one will treasure for years to come.
Is it easy to make these Christmas photograph cards?
It can be as easy as pasting a photo on the front of a blank card and adding a Christmas message inside the greeting card.
Christmas photo cards are like scrapbooking cards with photographs of family.

But if you are like me, you might like to add a computer generated clipart image, a stamped image or even a hand-drawn frame around the photo. By then, your creative juice will be flowing overtime and it's likely that you will start adding some glitters here and there, 3 dimensional dots or little squiggles. And who knows, you might even want to sew some stitches, and add a few beads, etc. Yes! These can be like those scrapbooking cards scrapbookers love to make.
Well, it's your creation and you can make it as complex or as simple as you like.

So I hope that with the Christmas Photo Cards that the resourceful ladies have created, you will be inspired to make your own Christmas greeting cards, add a personal family photo and send it to someone special this Christmas season.
Have a Happy Holidays!
Flora
Christmas Photo Cards
These are all the lovely Christmas photo greeting cards submitted by readers. They are all so beautiful and so personal with family photographs.
Enjoy!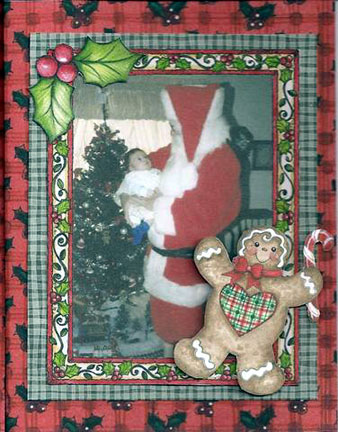 My grandson Austin's first Christmas. Santa is my Dad. Handmade by Jan Merkley
This page has been re-uploaded on November 2012. As I look at these handmade photograph greeting cards sent in the various ladies, I couldn't help but remember the wonderful time we had swapping with one another. Valerie Smith and Rosie Guiher - I still have contact with them on Facebook. Karen Knegten just miraculously recovered from her illness and is back to creating handmade greeting cards at her lakeside studio.
Bev Thompson - I have not contacted her but this page reminds me to send her greetings this Christmas. I believe she's busy with her business and family. Hope she has time to indulge in some arts.
Jan Merkley and Pat McConnel - I wonder where they are. Will try to reconnect again.
Thank you, ladies, for sharing your beautiful handmade Christmas greeting cards with all of us.
---
Making Greeting Cards!

›
Christmas Cards
› Here
Making Greeting Cards!

›
Readers' Cards
› Here
Like This Site?
Celebrating Creativity! Connecting Lives!
~ bringing cheer one card at a time.
Help Me Get The Word Out

If you like making greeting cards and want to encourage others to do so because of its many benefits, please help me share this website with your friends. Just click on the share buttons below to share with your fans and friends. Thank you for sharing the good things in life :-)