Happy Easter Step Card
3D Card Making with 3D Pictures for Reference
This Easter Step Card is fun to make although you might need to put in more time and effort to complete it. I made this Happy Easter card one afternoon with no design in mind. All I wanted to do was to try making a step card and since it's approaching Easter, I thought why not make it a happy spring card to celebrate the resurrection of Jesus Christ. 
So I chose pink as the dominant colour for this card and a Magnolia rubber stamp as the focus point. I also added die cut butterflies as well as punched borders. And not forgetting the flower stamp by Inkadinkado.
Note:
Click on an image to view picture gallery of all images on this page.
Card Making Supplies
15cm x 21cm card stock
White cardstock
steel ruler
x-acto knife
pencil
Magnolia rubber stamp: Tilda running

Inkadinkado rubber stamp: flowers
Martha Stewart Crafts: border punch
Memento Ink: Angel Pink
Versafine Ink: Smokey Gray
Hero Arts Design Blocks: S5435 Graph Background
Message Rubber stamp (unknown): Celebrate this moment...
Hero Arts Cling Stamp: Happy Easter
Stampabilities rubber stamp: GR1014 - John 3:16
Spellbinder: small frame die cut
Glitter Glue
Scissors
Copic Markers for Dress, Butterflies & Frame:

V93

Early Grape,

R85

Rose Red,

RV34

Dark Pink,

RV95

Baby Blossoms

Copic Markers for T-Shirt and Lace Trimming: B12 Ice Blue
Copic Markers for Skin: E51 Milky White, YR00 Powder Pink, E0000 Floral White, E00 Skin White, E02 Fruit Pink
Copic Markers for Hair & Shoe: C1 Cool Gray No. 1, C3 Cool Gray No 3, C5 Cool Gray No 5, C7 Cool Gray No. 7, C9 Cool Gray No. 9
Directions: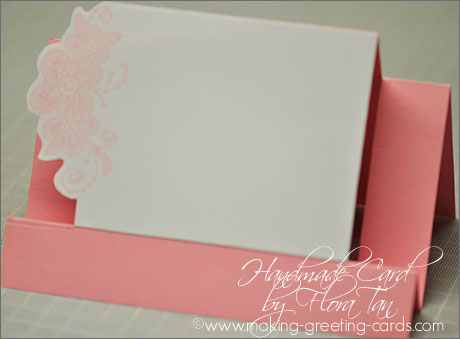 Download Template for this Easter Step Card and print onto thick copy paper.
Transfer to 15cm x 21cm card stock.
Cut and fold where indicated on template.
Stamp flowers with Angel Pink ink on left border of white card stock for front panel (see above pic).
Measure and cut to size to fix front of step card.
Stamp flowers with Angel Pink ink on another white card stock to fit into the side narrow panel. 
Stamp graph background with Angel Pink ink on a strip of 2.5cm x 15cm card to fit lower front panel.
Use dauber or sponge to apply Angel Pink ink on edges of all white cards.
Attach the pieces to step card with glue or double-sided tape.
Punch border flowers with Martha Stewart Crafts punch.
Use dauber to colour the top borders with Angel Pink ink.
Layer on white panel card from centre to the right edge and also on the right narrow panel.
Stamp Magnolia's Tilda with Memento Tuxedo Black ink on white card stock.
Color with Copic Markers.
Trim and attach to from of card with double-sided foam tape for 3d picture look.
Die cut butterflies, coloured with markers and glue bodies to front panel.
Add glitter glue.
Die cut and emboss small frame.
Stamp Happy Easter with Smokey Gray ink.
Edge with Angel Pink and go over with copic markers (Set A).
Attach to card front panel with double-sided foam tape.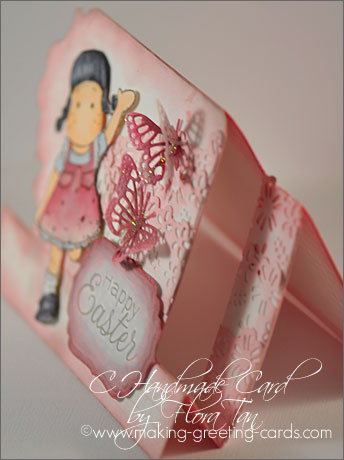 Decorating the Inside of Easter Step Card
For the inside of this step card, I just trace accordingly and cut out white cards to fit into each panel. On the top panel, I stamped the words "Celebrate this moment..." in Memento black ink and the scripture verse John 3:16 also in black on the top centre panel. On the side panels, I used a fine marker to hand write 'JOY' and 'HOPE'. I had some smudges so to cover those, I doodled flowers. The lower panel, I left blank for a more personal handwritten message. View this image below to have a better idea of this Easter Step Card.
Like This Site?
Celebrating Creativity! Connecting Lives!
~ bringing cheer one card at a time.
Help Me Get The Word Out

If you like making greeting cards and want to encourage others to do so because of its many benefits, please help me share this website with your friends. Just click on the share buttons below to share with your fans and friends. Thank you for sharing the good things in life :-)