Gong Xi Fa Cai (恭喜發財)
A Simple Chinese New Year Greeting Card
A Gong Xi Fa Cai Chinese New Year greeting card using punch art and die cuts.
With the right tools or card making supplies, you can easily make some stunning Chinese New Year greeting cards at home and surprise your relatives and friends this Lunar New Year.
Just follow the step by step instructions given below to make this simple Lunar New Year greeting card.
Gong Xi Fa Cai is a greetings used everywhere amongst Chinese on Chinese New Year which lasts for 15 days.  It means "May you have a prosperous New Year! "
Another commonly used greetings is Xīn Nián Kuài Lè which means "Happy New Year!" or Xīn Nián Hǎo 新年好 Wishing you a good year.
Card Making Supplies Used For Gong Xi Fa Cai Card
Red colour cardstock - 8.25" x 6"
Cream colour cardstock - 5.75" x 4"
Chinese characters punches
Sizzix branches die
Computer Chinese font for 'gong xi'
Watercolours
Brush
Craft knife
Glue
Card Making Instructions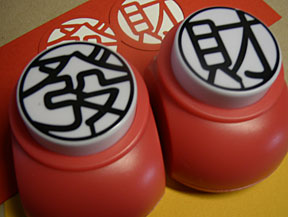 Fai Cai 發財 Craft Punches

Score and fold red card stock to make a base card for this Chinese greeting.
Copy and save Chinese characters 'gong xi' to your hard-disk.
Print the Chinese characters on the cream card - position the words on the top left.
Paint the die cut branches with the watercolours.
Arrange die cuts branches and the Chinese characters 'fa' and 'cai' on cream card.
Apply glue and attach to cream card.
Apply glue on back of cream card and layer on top of red card front.
Glue to front of red base card.
That's it! Just add a message inside the card, sign and placed inside an envelope and your Chinese New Year greeting card to send to wish someone 'Gong Xi Fa Cai' is ready for posting.
More Lunar New Year Cards
---
Like This Site?
Celebrating Creativity! Connecting Lives!
~ bringing cheer one card at a time.
Help Me Get The Word Out

If you like making greeting cards and want to encourage others to do so because of its many benefits, please help me share this website with your friends. Just click on the share buttons below to share with your fans and friends. Thank you for sharing the good things in life :-)