Hand Painted Card
Using Acrylic Paints
This hand painted card was made for a Facebook friend. I wanted to send her some tiny elements with a gift tag. But the tag was only 2.5" x 4" in size and would be rolling around inside a 4.5" x 6.3/8" envelope. 

So I thought I would just placed it inside a blank card of about 4" x 6" in size when folded.

Well, that's not to be as it is my habit to decorate any paper surface with rubber stamped images, doodling, or paint. So finally, the end result is this hand painted card using various medias; namely acrylic paints, a stamped image, and fine markers.



The Miracle of Friendship

There is a Miracle called Friendship

that dwells within the heart

and you don't know how it happens

or when it even starts.




But the happiness it brings you

always gives a special lift

and you realize that Friendship

is God's most precious gift.

- Author Unknown

Click on any of the images below to see a gallery of cards on this page.


Actually, for this hand painted greeting card, I started off with the 4 pieces of one and a quarter inch kraft squares cut from an AccuCut die. Look at the image below for the 4 squares die I'm referring to as well as the rubber stamp and kraft folded blank card. The wood mounted stamp is by Penny Black. (4176H - friendship)
Making This Hand Painted Card

Actually, it was a very simple acrylic painted greetings. What I did was die cut the 4 squares on kraft cardstock. Then choose the 4 acrylic paint colors. I chose Calypso Blue, Celery Green, Bright Yellow and Calico Red. Squeeze a small pool of each color on a big piece of smooth tile and paint each kraft square with each color.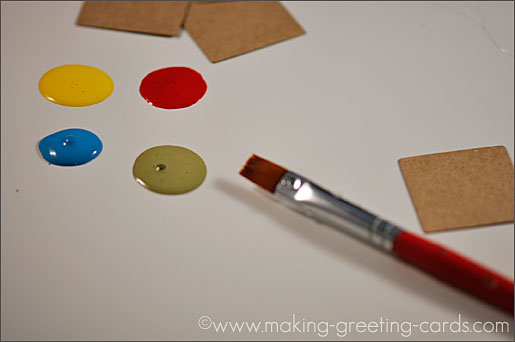 Tip: Remember to let each application of paint dry before applying more paint over each layer.
Next, I paint a wash of Titanium White over the top of the folded kraft card. When the first coat of paint dried, I applied another coat to completely cover up the color of the kraft card below the white wash. Leave the paint to dry. Meanwhile, inked the Penny Black's friendship stamp with black memento ink and stamp the message at the bottom of the kraft card. When all the acrylic paints were completely dry, I applied glue to the back of each square and attached to the front of the kraft card just below the white painted top half.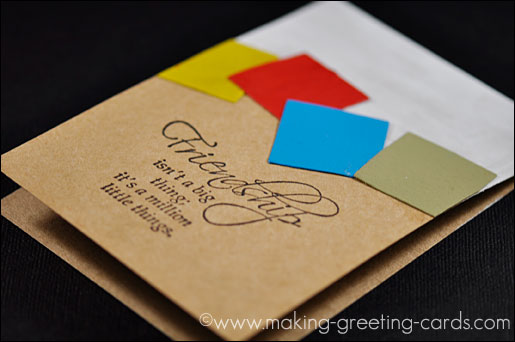 Then using a white gel marker to draw stitches below the squares and black stitches with a fine black marker. (I used a 0.3 nib Copic marker and a Inkssentials white opaque pen)
Then finally, I drew frames inside the squares with the same black marker. Just scroll to back to the top to view the finished hand painted card or click on the immediate card above to see a slideshow of all the images on this page.
More Quotes for Friends
Like This Site?
Celebrating Creativity! Connecting Lives!
~ bringing cheer one card at a time.
Help Me Get The Word Out

If you like making greeting cards and want to encourage others to do so because of its many benefits, please help me share this website with your friends. Just click on the share buttons below to share with your fans and friends. Thank you for sharing the good things in life :-)