Handmade Birthday Card
by Raksha Mahat
(Manama, Bahrain)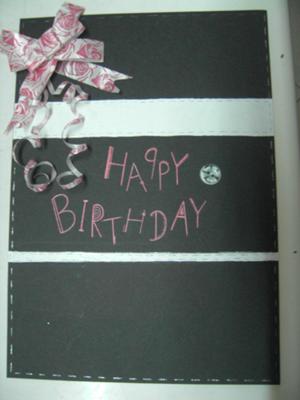 Front of Handmade Birthday Card. Accessorize the card by sticking a button.
This card is very simple to make. All you need is tipex/whitener, 2 black sheet of papers, button* optional),ribbon and few glitter pens.

The border is small lines drawn with spaces between then so as to make it look like it is stitched (look at the picture).

Then I drew 2 thick lines at different points and used whitener, you can also use paint or stick piece of paper instead.

Then, the next step was sticking the ribbon and then the button.

The 2 black sheet of papers are stapled together at the point where the ribbon is glued.

Another way is to staple the 2 sheets at the right edges so that it opens up like a book.

I hope this description helps :)
Join in and write your own page! It's easy to do. How? Simply click here to return to Homemade Birthday Cards.