Mothers Day Flowers Ain't Special
Unless Accompanied By A Handmade Card
Send mothers day flowers to your mom on Happy Mother's Day. But not just flowers! Made and purchase a handmade Mother's day card to accompany and compliment the bouquet of flowers.
Here's a handmade Mother's Day card that's quick and easy to make but will surely be a delight to receive.
So surprise your mom this Mother's Day with this beautiful rose design paper napkin card.
Right! You have not read incorrectly:-) A paper napkin (serviette) card. I was given this beautiful paper napkin with rose print on it and so a few days before Mother's Day, I decided to make my mom a paper napkin greeting card. In fact, this was one of my very early attempts at card-making.
This is a great Mother's Day craft activity for kids - turning paper napkins into lovely cards for moms or grandmas. Everything you need is there in your pantry:-) 
CAUTION!!!
Make sure the ironing should be done strictly by older children and adults only.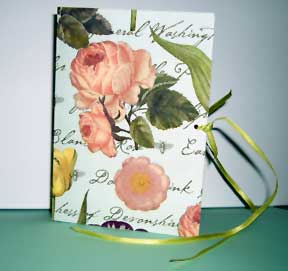 Card Making Supplies Used for this Mothers Day Flowers Card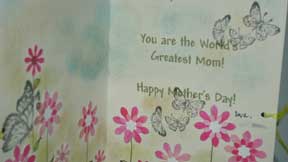 White Basic Blank Card
Serviette (Paper Napkin)
Cling Wrap
Iron
Flower Punches (both big and small punches)
Markers
Thin Ribbon
Hole Punch
Black ink pad
Flower Punches (both big and small punches)
Butterfly Rubber Stamps by All Night Media
Card Making Instructions for Making this Mother's Day Flowers Card:
Print words with printer inside of basic blank card or use a rubber stamp.
Switch on the iron.
Open the white basic blank card.
Place card on ironing board with outside of card facing up.
Cut cling wrap to bigger than card size.
Spread cling wrap on the card.
Place the serviette on top. The right side of serviette facing upward.
Iron on the serviette till it sticks onto the card underneath. The cling wrap serves as the gluing media.
Trim off serviette that stretch beyond the card edges.
Fold and swipe card with bone-folder.
Decorate inside of cards with punch flowers and stamped butterflies images.)
Draw in stems and leaves.
Color with markers
Punch holes on back and front centre edges and tie ribbon. (Refer to the photos above)
Not just mothers...remember grandmothers too on this Mother's Day celebration.
And Grandma too...

"While we honor all our mothers 

with words of love and praise. 

While we tell about their goodness 

and their kind and loving ways. 

We should also think of Grandma, 

she's a mother too, you see.... 

For she mothered my dear mother 

as my mother mothers me." 




~ Author Unknown 




Click here to read more Mother's Day poems. 



Making Greeting Cards!

›
Mother's Day Cards
› Flowers Card for Mom
Like This Site?
Celebrating Creativity! Connecting Lives!
~ bringing cheer one card at a time.
Help Me Get The Word Out

If you like making greeting cards and want to encourage others to do so because of its many benefits, please help me share this website with your friends. Just click on the share buttons below to share with your fans and friends. Thank you for sharing the good things in life :-)