Nail Polish Technique for Card-Making
Try this nail polish technique and create some beautiful shimmer paper for your card background.
This is a very simple technique that calls for at least two bottles of nail polish colours. You won't be using the whole bottle but just a few generous drop of each.
I would suggestion that you buy about three complimentary colours of non-expensive nail polish for this endeavour.
For the above attempt, I added three colours: dusty pink, red and blue. These were some of my old polish colours and I just added a few drops of nail polish remover to thin them.

So let's begin to make some beautiful background for cards with this simple card making technique.

Try it!
Nail Polish Technique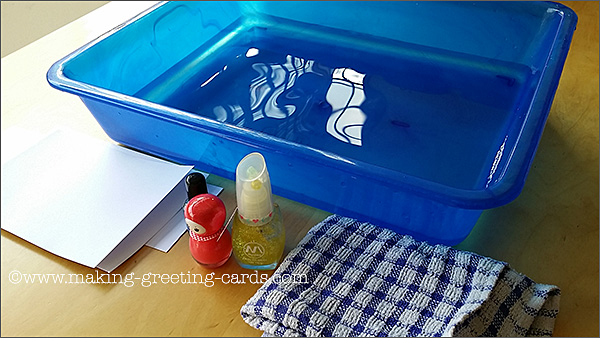 All You Need Could Be Found In Your Home
Supplies Needed:
Nail Polish : 2 or 3 colours of your choice
Nail Polish Remover
Old Newspaper
Towel
Basin
Water
Cotton Wool
Cardstocks
Directions:
Tips:
You can also stamp an image on the cardstock with pigment ink, emboss it and then color with permanent markers first before placing it under the water. Use pastel color nail polish.
Or try using dark color cardstocks for a different look
Spread old newspapers on your worktable so that you won't need to clean up much later.
Fill tray with warm water to about 1 to 2 inch deep.
Add a little remover to nail polish to dilute for easy pouring.
Place a piece of cardstock under the water.  (You can also do it after pouring the nail polish which I did for this experiment. Just slip the card inside from the side of the basin.
Pour a bit of each nail polish color into the tray of water above the cardstock. Color will spread and form a film. So try to pour the next color onto areas that are clear of nail polish.
Lift up the cardstock with the film of mixed nail polish colors floating on top.
Put aside to dry.
What To Do With These Background Cards
Trim and layer over complimentary card stock. 
Make bookmarks.
Background for greeting cards.
Journal covers.
---
Making Greeting Cards!

›
Card-Making Techniques
› Nail Polish Background Paper
Like This Site?
Celebrating Creativity! Connecting Lives!
~ bringing cheer one card at a time.
Help Me Get The Word Out

If you like making greeting cards and want to encourage others to do so because of its many benefits, please help me share this website with your friends. Just click on the share buttons below to share with your fans and friends. Thank you for sharing the good things in life :-)