Printable Christmas Card 2013
Printable Christmas Card 2013
This free printable Christmas card 2013 was created one evening when I was playing with Adobe Photoshop. This is a pdf file for you to download and print on your computer.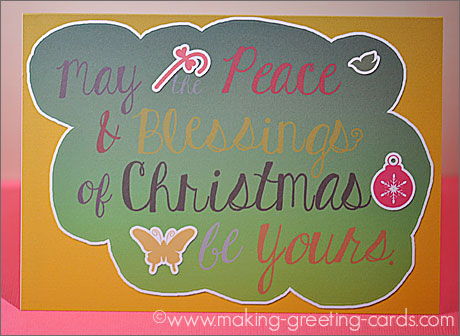 Actually, it was a very simple card using the greetings, 'May the Peace & Blessings of Christmas be yours.'  You can find wordings for your season greetings here.
I copied the words and paste it into a document in Adobe Photoshop. Change and adjust the font size till I like it. Insert some Christmas cliparts and add effects like drop shadows and stroke. 
Finally, draw in the frame and decide on the colours, etc. Since this is a fun project, I just go wild with colours.
If you like what you see above, just click on the following file.
Once you have saved to your computer, once you click on it, it should open in Adobe Reader. (If you don't have the latest copy of Adobe Reader, you can get it free here.)
Printing the Printable Christmas Card 2013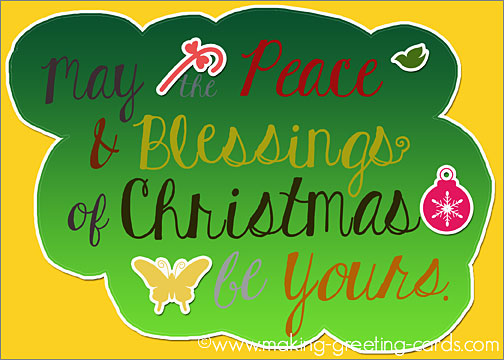 Use a A4 or Letter size white colour heavy weight paper; at least 160gm, to print on.
Once printed, trim off the sides according to the marked lines. Then score and fold at the centre where the white (back of the card) and yellow background on the front of the card meet.
You can add a bit of glitter glue to the candy stick's bow, on the Christmas ornament, and/or on the butterfly image to embellish it. Another way to embellish it is to tie a silver or gold ribbon at the fold of the greeting card.
Print a Christmas verse on another piece of paper; 80gm weight paper is good for this. Trim and decorate it if you like and glue it down inside the Christmas greeting card.
That's it! Sign and slip it into an envelope and post it to someone this Christmas season. Take care, keep warm, have fun and have a very wonderful Christmas!:-)
And here are more printables for you.
Like This Site?
Celebrating Creativity! Connecting Lives!
~ bringing cheer one card at a time.
Help Me Get The Word Out

If you like making greeting cards and want to encourage others to do so because of its many benefits, please help me share this website with your friends. Just click on the share buttons below to share with your fans and friends. Thank you for sharing the good things in life :-)