This stripe swap card was created in honour of a swap that focused on the stripes theme. I had on hand this bright green card-stock that really crashes with the colour of the stripe designer paper I wanted to use.
So I changed the border on the front of the green card by using the direct-to-paper technique. This is a simple technique using an inkpad and applying the color directly to the card. For this stripe swap card, I used a red dauber by Tsukineko to paint on the borders of the green card.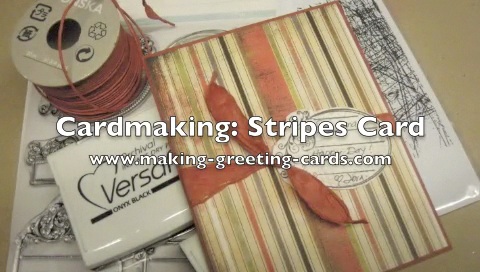 The above is the stripes card I created for a fun swap online. I posted a video here of the steps I took to create this card but somehow the video is no longer working and I lost the file so this is all you can view of the handmade strip swap card :-(
I will need to reproduce it or better still make more colour stripes cards to post here for our  inspiration. Yes! I certainly will do that as even while I'm  this sentence, my head is filled with technique and design ideas for more stripes. 
Handmade Greeting Card Swaps
This kind of swap is very fun to participate in but it can also be rather time consuming if you are involved in too many swaps. You need to meet a dateline and if you have other commitments, you will find yourself staying up late into the night creating to send the swap card off in the mail.
But it's nice when you receive the swap card from your swap partner and see the design, style and technique she used to create that handmade card. You can learn a lot from it and it's always nice receiving real paper greeting cards in the mail instead of just bills. You also make friends online this way.
That's it! A quick and simple stripe swap card ready for posting to my swap partner.