Thinking of You Greeting Card
Colourful Thinking of You Greeting Card
This Thinking of You greeting card was specially created for another caregiver. I joined this Walk With Me program whereby after training, we were assigned someone who needs a buddy to walk alongside them in their caregiving journey.
Click on any image
for gallery or expanded view.
Though it was a mentoring program, we rather see ourselves as a buddy instead of a mentor/mentee relationship.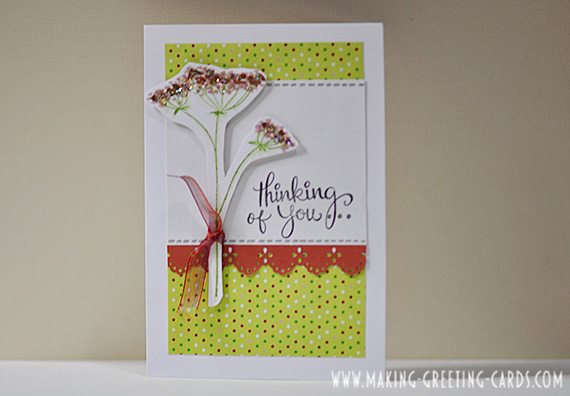 Thinking of You Card
For this Thinking of You greeting card, I chose a bright green colour pattern paper because it looks cheerful and I wanted this greeting card to be kind of upbeat and uplifting.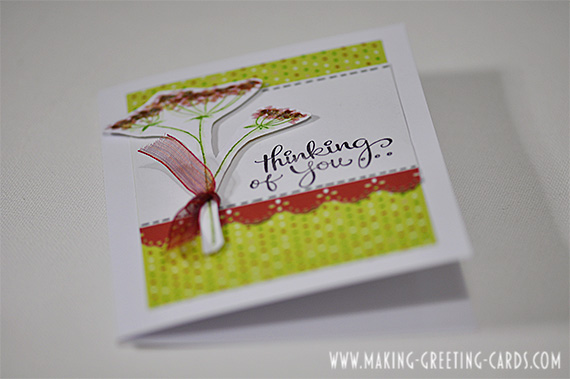 Cheerful Colours
Actually, this is quite easy to achieve as the green, white, orange and brownish red colours of the polka dots against the lime green background makes this handmade card looks rather striking and with the touch of burgundy red in the ribbon and lace border as well as the glitters on the flowers, all these elements certainly help to convey a joyful feel to this friendship card.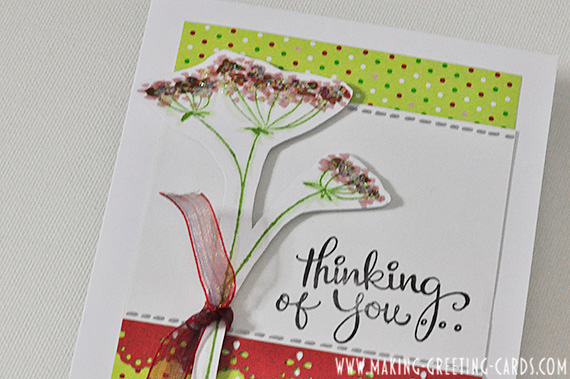 Ribbon, Glitters and Lace Border
Supplies Used for Thinking of You Greeting Card
Step-by-step Directions for Thinking of You Card
Score and fold white card and put aside.
Ink flower stalk clear stamp with Cottage Ivy colour ink and stamp image onto white card.
Colour the flowers with COPIC markers E04 & E07.
Colour the rest of the stalk with COPIC marker YG67.
Trim around the image leaving a narrow border.
Layer white card over lime green patter paper just about half inch or 3/4" from the top of pattern paper with doubled-sided adhesive tape.
Ink Thinking of You clear stamp with Tuxedo Black ink and stamp on white card layer positioning image on the bottom left. (refer to photos)
Hand-draw running stitches on top and bottom of white card with silver marker.
Punch out lace border with punch and burgundy coloured card.
Use glue on top edge of lace border and attach to bottom of white card.
Attach all to white folded card with doubled-sided adhesive tape.
Apply double-sided foam tape to back of stalk of flower.
Tie ribbon at near bottom of stalk.
Position and layer over the front of the card.
Add glitter glue on flowers and leave overnight to dry.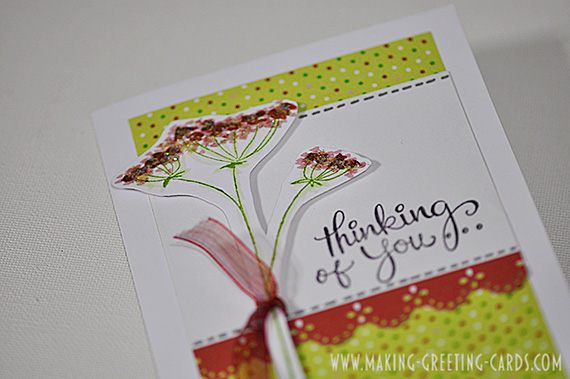 Hand-drawn Running Stitches
I hope that this Thinking of You greeting card will cheer up my buddy in her caregiving journey as she patiently and lovingly care for her mother who is suffering from advanced dementia.
---
Making Greeting Cards

›

Friendship Cards
› Thinking of You
Like This Site?
Celebrating Creativity! Connecting Lives!
~ bringing cheer one card at a time.
Help Me Get The Word Out

If you like making greeting cards and want to encourage others to do so because of its many benefits, please help me share this website with your friends. Just click on the share buttons below to share with your fans and friends. Thank you for sharing the good things in life :-)