A Valentines Card I make using scrapbooking paper, a heart stamp and a Happy Valentines Day message stamp. This is a pocket tag card design that can be adapted for other kind of handmade cards. Below is a list of other handmade greeting cards I made using this cardmaking design.
I used a bright sharp pink color theme with roses and hearts here so it's a handmade happy valentines day card suitable to send to mom, a woman friend or a young niece.
Scalloped die-cut tag - stamped with heart images and message against pink card.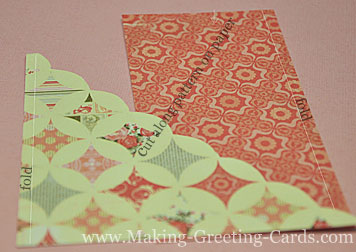 Cut Scallop Design.
Cut and fold scrapbooking paper to make pocket card.
Wrapped Around Pocket
Finished pocket with the 2 triangular cards overlapped and attached to cream cardstock with double-sided tape and sealed at the bottom to form pocket.
My website url and stamped heart images on the back of the handmade card. Sometime I sign it but most times, I just leave it as it is - unsigned.
Viola! A stunning pink handmade happy valentines card. Hope you like it.
Have a look at another card using this card design - Happy Chinese New Year Card