Wedding Tags
for gifts and favors

Unique wedding tags with a special touch - handmade with rubber stamps, die cuts, vellum, ribbons, sparkling jewels and hearts. Make every detail for this special celebration of your life uniquely you.

The three tags above are crafted from die cuts. The bigger one measures 3.00 inch x 5.00 inch and the two smaller ones measure 1.75 inch x 3.00 inch.

It's a red and black color theme on kraft cardstock.
Rose  Tag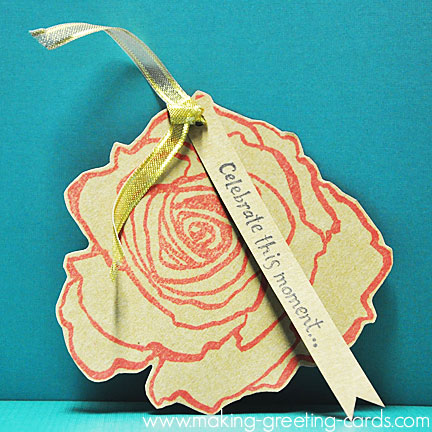 This is created using a big rose outline stamp with red chalk ink. After stamping, I trimmed around the image. Another element is added - A thin strip of kraft card stock with a message 'Celebrate this moment...'.
If you want to use this tag as a place card, you can replace the message with the name of the guest.
Die Cut Flower Wedding Tag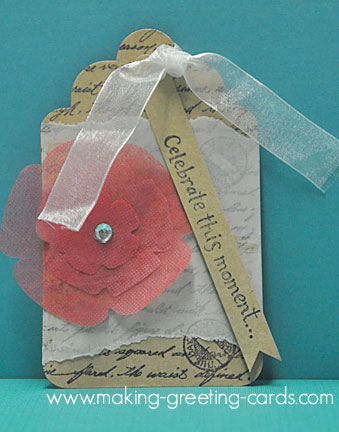 Here is a scallop shaped die-cut tag made of kraft cardstock. The layered see-thru flower is also from another die cut pattern. After assembling the flower, I topped it with a sparking jewel.
A script stamp is used to create the background on the plain kraft surface using black pigment ink. A piece of vellum is torn and layered over the stamped script.
Finally, a thin strip of same cardstock with the words, 'Celebrate this moment...' stamped with black ink is attached to the tag with a piece of sheer ribbon.

Sheen Wedding Tag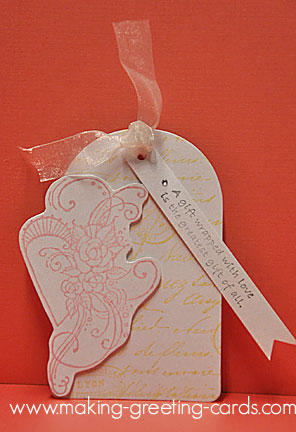 A sheen white card stock is used to create this favor tag. It gives it a soft luster look. Images are stamped with chalk inks. A wedding rubber stamp is used. After stamping the image with rose color chalk ink, the image is left to dry and then trimmed. A script stamp is used on the tag itself with a lemon green color ink. Double-sided foam tape is used to give a 3 dimensional effect to this project. Message read: 'A gift wrapped with love is the greatest gift of all.'

Uses for these Tags

Tags are great for various uses in a wedding. You can use them to say Thank You, as place card or part of your wedding favor.
You could also incorporate these into your wedding decoration.
Another idea is to make lots of them and leave blank for guests to write their best advices for the newly wed couple. After the celebration, add them to your guest book or your wedding scrapbook.
I'm sure you will find more uses for them. Do let me know what you think and if you have some other suggestions for their use by adding your comments below.
Like This Site?
Celebrating Creativity! Connecting Lives!
~ bringing cheer one card at a time.
Help Me Get The Word Out

If you like making greeting cards and want to encourage others to do so because of its many benefits, please help me share this website with your friends. Just click on the share buttons below to share with your fans and friends. Thank you for sharing the good things in life :-)