Cards by Anna Angelou Page 2
Here in Anna Angelou Page 2, you will enjoy another set of handmade wedding cards by Anna from USA.
Anna uses two computer programs, Painter and Print Shop, to create her cards.
This is the front of Anna's homemade card. She uses computer software - painting programs - to sketch and paint her cards. The message on the front of this card reads, "Shower of Happiness" above the painting of the bride.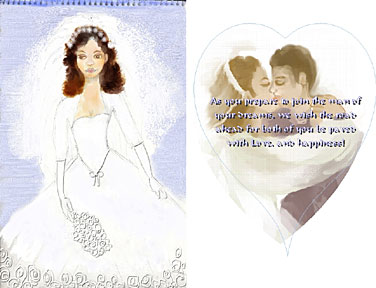 Inside the Wedding Card
The card opens with the painting of the bride and a message framed in a heart. Message on the card reads: "As you prepare to join the man of your dreams, we wish the road ahead for both of you be paved with love and happiness!"
The words are by Anna Angelou.
Digitally Painted Card
The back of Anna's card with her signature.


Useful Cardmaking Tips
Advantage of using a computer's program to paint is that after painting the picture, you can use it again and again. All you have to do is save it, then just open or copy and paste onto a new page or space.
Also, if you make a mistake you can always undo and go on.
More Cards by Anna Angelou
Do check out more of Anna's cards at the following links:
---
Like This Site?
Celebrating Creativity! Connecting Lives!
~ bringing cheer one card at a time.
Help Me Get The Word Out

If you like making greeting cards and want to encourage others to do so because of its many benefits, please help me share this website with your friends. Just click on the share buttons below to share with your fans and friends. Thank you for sharing the good things in life :-)