Baby Cards Verses
Here are some baby cards verses that other card makers have contributed to this baby verses page.
I'm sure that you will be able to choose one that is appropriate for the happy occasion.
For some you might need to edit the words. For example, boy to girl and vice versa. Other places you will need to put in the name of the baby, parents and siblings.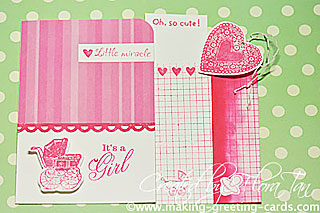 Baby Girl Card with Tags
List of Baby Cards Verses
Cardmaking Tip

You can print texts for your cards using decorative fonts from your computer on vellum, trim the edges with decorative scissors, then attach to your baby cards with eyelets or brads.
We welcome with joy
our new baby boy
Announcing the arrival of
Our newest member
It's A Boy!!
Please join us in a Baby Shower
to celebrate the upcoming arrival
of Jim and Kelly's new son!
Sugar and Spice
and everything nice . . .
Please join us for a baby shower
in honor of NAME
Someone tiny, someone sweet
We would like for you to meet
Come join us as we celebrate
the birth of our son/daughter.
I'm So Excited!
It's my 2nd Birthday and
You're Invited!
Join Us
for
Daryl's 8th
Birthday Celebration
It's a Boy!
(Name of the baby) 
January 8th, 2006
at 1.20pm
7 pounds 2 ounces
22 inches long
Ben(Father) and Sandy(Mother)
and big sister, Alice
Introducing our new crew member
Proud parents,
Ben and Sandy
Share the Joy
Come Join the Fun!
Our Baby Girl
Is Turning One!
I hope that you are able to use one of the above words for your Baby Birth Announcement cards. Eventually, I would like to fill this Baby Card words page with lots of good verses for baby showers and birth announcements so that we will not have to worry about what to say in our homemade cards again.
If you have a verse to share with us, just contact me and I will add your birth announcement words here.
Happy baby cardmaking! Remember to keep a good copy of your handmade card for your baby scrapbook.
Happy Birthday Verses
If you are looking for happy birthday cards and birthday words, you might want to check out OhHappyBirthday.com which is my birthday website dedicated to all things birthday ranging from baby announcement to 90 year old birthday cards and celebrations. 
---
Like This Site?
Celebrating Creativity! Connecting Lives!
~ bringing cheer one card at a time.
Help Me Get The Word Out

If you like making greeting cards and want to encourage others to do so because of its many benefits, please help me share this website with your friends. Just click on the share buttons below to share with your fans and friends. Thank you for sharing the good things in life :-)