Download Christmas Card 2013
and Print on Your Computer
Christmas Card 2013 was the second greeting card created for this festive season for this year. It is specially created for readers of this cardmaking website; especially for those who need to print one fast and has no time to make your own.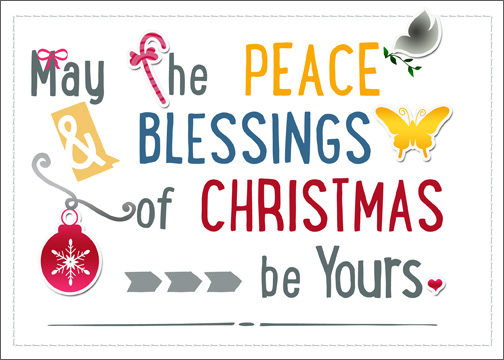 Another design using the same wordings as the first printable Christmas card I created a few days ago. Actually, I like this better because it's against a white background and thus the words stand out clearly. Don't you think so too?
Words used are from the Christmas wordings page found here.
Just A Suggestion: Try creating your own Christmas greeting card on your computer.
Actually, it is very simple to create the above card. All you need is Photoshop Element or Microsoft Word or Powerpoint. Anyone of these softwares should be able to do the job.
Choose a preferred verse from the page mentioned above. Open a document and just copy and paste it onto the document. Change font and font sizes till you are satisfied.  Decide on colour for each word and then add cliparts.
You can also choose to have two copies of the same design on a document.
Print on cardstock, trim and layer over the front of folded cards.
Then embellished with gems or glitter glue if you like.
This is just an idea if you're thinking of designing your own Christmas card.
Download Printable Christmas Card 2013
This is a pdf file so you will need the latest Adobe Reader to open it. If you do not have it in your computer, go here to download it. It's free.
Enjoy!:-)
Doodling - Another Idea for Cardmaking
Doodle on a piece of blank card - draw anything that's reminds you of Christmas; snowman, snowflake, reindeer, presents or just a star. Handwrite 'Merry Christmas!'. Trim the card to size: 5" x 7" and layer over a folded coloured card.
Like This Site?
Celebrating Creativity! Connecting Lives!
~ bringing cheer one card at a time.
Help Me Get The Word Out

If you like making greeting cards and want to encourage others to do so because of its many benefits, please help me share this website with your friends. Just click on the share buttons below to share with your fans and friends. Thank you for sharing the good things in life :-)