Corporate Christmas Cards
- embellish them!
Make corporate Christmas cards and embellish them to get the professional and expensive look.
Here are two business Christmas cards I created for established businesses.
It is a good change to send handmade Christmas cards to your corporate clients but you'll need to make sure that the images are appropriate. In my opinion, trees, and wreaths are great images to use for these Christmas cards.

The two business Christmas card designs I created used a Christmas tree rubber stamp by PSX and another a wreath stamp also by the same company.

Here are the two cards. Have a look!
Click here to go to the step-by-step instructional page for this Christmas Tree Card.
The card below is a wreath Christmas card.
Like the Christmas tree card above, the card stock used are premium quality cards and the color scheme chosen are red and green; both traditional Christmas colors.
Other colors to use for these cards are gold, silver, and blue.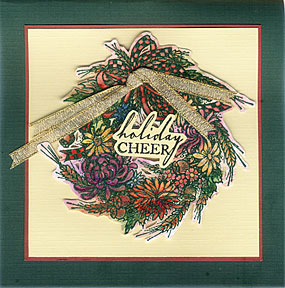 Holiday Cheer! Wreath Card
Click here to go to the instructional page for this Wreath Christmas Card.
You also can refer to the Business Christmas Cards for some card making tips on making Christmas cards for business clients or associates.

And if you are making cards for a small business like a beauty salon, or a gift shop, then you might like to have a look at the two rubber stamped watercolored  Company Christmas cards. These cards are more personal since their regular customers are like good friends. This is especially true for the beautician. They chat while she does her customer's face and she got to know her customers' personal life. Strange! Ladies tend to relax and chat away their life stories to their hair stylist, manicurist or beautician :-D
Business Tip :
If you are a manicurist, beautician or hair stylist and own the shop, I suggest that you make some personal handmade cards for your most regular clients. It will certainly set you apart from your competitors or other small business owners. Take those down time to create festive cards. This way, you are making the most of your business hours and taking advantage of quiet hour(s). Also if you have employees, it is good fun creative time to bond and build relationship.

---
Making Greeting Cards!

›
Christmas Cards
› Corporate Christmas Greeting Cards
Like This Site?
Celebrating Creativity! Connecting Lives!
~ bringing cheer one card at a time.
Help Me Get The Word Out

If you like making greeting cards and want to encourage others to do so because of its many benefits, please help me share this website with your friends. Just click on the share buttons below to share with your fans and friends. Thank you for sharing the good things in life :-)
Top of Corporate Christmas Cards