Got A Fathers Day Card To Share With Us?
Showcase It Here!
Want to share your Fathers Day card with visitors to this cardmaking website?
Here's where you can do so by uploading it here and explaining in detail the steps you took to achieve that special look.
Yes! Tell us how you make it - what materials you use on this special card you made for your dad.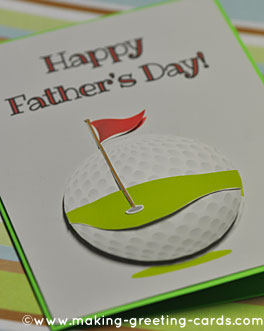 Step-by-step Instructions is Important
Please explain step-by-step how you make the Father's day card. What cardmaking technique you used and what embellishments or stuff were added to make the card so special for Father's Day.
Let me repeat. Please share in detail so that we can all learn from each other. Lots of visitors to this cardmaking website are new to making greeting cards so your sharing would be a great help to them in their initial card making endeavours.
You can upload as many images of your dad's card as you like from different angles.
Please note that if all you did is upload an image without clear detail explanation, your post will not be added here.
Thanks for your co-operation.
Pointers To Help You Share Your Fathers Day Card Effectively
What cardmaking supplies you used for this card?
How did you make it? Any special technique used?
Step-by-step instructions is important.
Is there a color theme used? Why? Dad's favourite colors?
You can also follow the format I used on all the cardmaking projects on this website.
Share from your heart and have fun.
Add a photo of your homemade card.
Keep photo resolution to 72 and size them to about 560 pixels  wide .
Upload Your Fathers Day Card Here
Join the fun! Build your own Fathers Day Card page here.

Comments from Card Crafters
Click below to see what Card Crafters to this page are saying ...

---
Making Greeting Cards!

›
Share Your Cards
› Dad's Card
Like This Site?
Celebrating Creativity! Connecting Lives!
~ bringing cheer one card at a time.
Help Me Get The Word Out

If you like making greeting cards and want to encourage others to do so because of its many benefits, please help me share this website with your friends. Just click on the share buttons below to share with your fans and friends. Thank you for sharing the good things in life :-)