Fathers Day Gifts
Some Helpful Gift ideas For Dads
Looking for Fathers Day gifts? Having difficulties choosing a gift for Father's Day?
Well, I thought I will search the net and see what kind of father's day gifts are great for dads. And these are what I found - fabulous gifts that any dad will love to receive.
I have classified them according to prices so that you will know whether it is within your spending budget for your fathers day gifts.
Happy Shopping! Happy Father's Day!
Gifts Under $50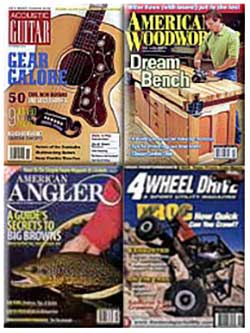 Magazine Subscription
Pay a subscription for 1 year of dad's favourite magazine. Or choose one that is totally new to him from a wide range of magazines for men at the newsstand or online.
Dad will continue to receive his Father's day gift every month throughout the year till the next Father's day comes around.
Gifts Under $150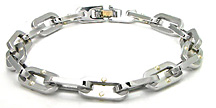 Men's Stainless Steel Bracelet
Look for exquisitely crafted bracelet made from high polished stainless steel oval links with 14KT yellow gold screw accents.
Trendy and versatile. It should be around the $100 to $150 range.
A perfect gift for a trendy dad.
Gifts Under $200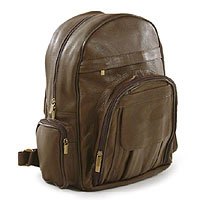 Multi-pocket Leather Backpack
Inviting and practical, a backpack with several pockets and compartments ideal for keys, pens and cell phone would be ideal for everyday use as well as for travel. 
Gifts Under $500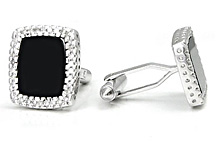 14K White Gold Diamond Onyx Cufflinks
A pair of cufflinks like the image on the left will certainly be a gift that any dad would be so proud to show off.
And definitely something that he would be wearing very often.
Gifts $1000 and Above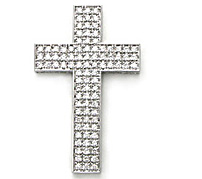 18K White Gold Diamond Cross Pendant

If dad is a Christian, surely a diamond cross pendant would be ideal. 
A gift that dad will surely love to show off to his friends and associates.
But then with a thousand dollars and more, there are lots of beautiful gifts for dad. Anything that he will use for a long while. Useful, trendy and something he is proud to show off.
Other Fathers Day Gifts
Membership to a Fitness Club - Since lots of people are taking up exercising, I think this is a good gift for dad.
A pen engraved with his name. Especially for a dad who loves to write.
Gift voucher for a dinner for two. Choose a good restaurant with good food and great music. Give dad the gift of a relaxing evening.
A golf club - this is for the golfer dad.
A night at the movie. Has to be a great movie that dad will love to watch. Don't want dad to sleep through the show.
Subscription to Netflix, Apple TV or Prime Video.
A new computer for dad to surf the net - an Apple iMac would be lovely.
Car accessories. Every dad loves things to do with his car.
A vacation to a country he always wanted to visit.
---
Like This Site?
Celebrating Creativity! Connecting Lives!
~ bringing cheer one card at a time.
Help Me Get The Word Out

If you like making greeting cards and want to encourage others to do so because of its many benefits, please help me share this website with your friends. Just click on the share buttons below to share with your fans and friends. Thank you for sharing the good things in life :-)