Free Printable Christmas Card 002
Free Printable Christmas Card 002
Here's another free printable Christmas Card that you can download to your computer, print and send. Be creative! Add glitter glue, layer on color cardstock, or cut and paste to give your card a 3D look.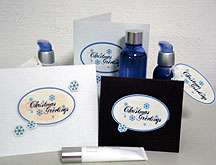 Printable Christmas Cards and Tags
Supplies Needed:
1. Printable Christmas Card 002
2. White Cardstock
3. Lightweight Paper
4. Decorative Scissors
5. Glue
Instructions
1. Download Free Printable Christmas Card 002 if you have not done so.
2. Print pages(1)and (3) on white cardstock.
3. Print page(2) on lightweight paper.
4. Fold printed card from page(1) into half.
5. Trim with decorative scissors on the edges.(optional)
6. Attach lightweight printed paper to inside of card.
8. Cut out the word "Christmas Greetings" and snowflakes from sheet 3. Use foam tape and attached to card to give a 3D look. (Optional)
---
Variations: Cut out "Christmas Greetings" on page three (3) and attach to Navy or Red colour card-stocks.
---
Christmas Gift Tags
1. Print page three(3) on white card-stock.
2. Cut out "Christmas Greetings" around the outside oval frame.
3. Punch a hole inside the left edge of the oval frame.
4. Thread a white elastic string or navy fibres.
---
Making Greeting Cards

›

Christmas Cards
› Here
Making Greeting Cards

›

Free Printables
› Here
Like This Site?
Celebrating Creativity! Connecting Lives!
~ bringing cheer one card at a time.
Help Me Get The Word Out

If you like making greeting cards and want to encourage others to do so because of its many benefits, please help me share this website with your friends. Just click on the share buttons below to share with your fans and friends. Thank you for sharing the good things in life :-)