Greeting Cards Blog Feb05
Read Greeting Cards Blog Feb05 Here
I have moved all the greeting cards blog feb05 here. Just click on the BACK button on your internet browser to go back to read the current blogs.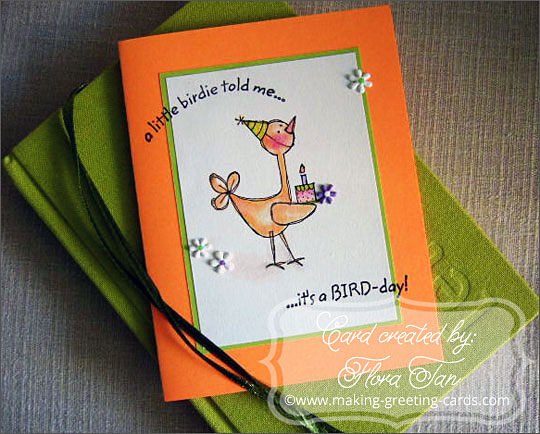 Birthday Card
28th February 2005 (Monday 14:33pm - Malay Peninsula Standard Time)
Cards Made With Rubber Stamps!
A new page Cards Made With Rubber Stamps has been uploaded to the site. This is a page of cards made using Hero Arts rubber stamps. Will add more cards made with rubber stamps of different rubber stamps companies. e.g. Penny Black Rubber Stamps, Posh Impressions Rubber Stamps, Magenta Rubber Stamps, etc.
---
25th February 2005 (Friday 10:45am - Malay Peninsula Standard Time)
Greeting Cards Forum?
In my excitement about making spring cards, I nearly forget about the forum thing. I am considering the feasibility of having a making-greeting-cards-forum here.
Subscribers to the ezines are increasing every day and I'm also receiving emails constantly from readers. So I think it is good to have a forum whereby we can interact with one another, help one another in our card making and also be able to send one another our homemade cards. How's that?
---
25th February 2005 (Friday 10:35am - Malay Peninsula Standard Time)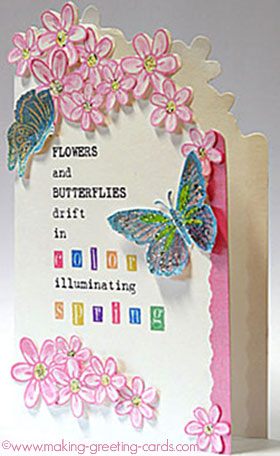 A Spring Card
Spring Cards!
Hi Hi Hooray! Time to make Spring Cards. I just love this - making cards that speaks of spring, life, beginning, and dreams.
Guess it's the die-hard romantic me who is always buying rubber stamps, stickers and punches that will help me create spring cards.
Well, what is spring cards? They are cards that have flowers (lots of flowers), butterflies, and dragonflies. Anything to do with the garden.
So since spring is here, I'll be making lots of these greeting cards. Will upload them as soon as they are ready with step by step instructions.
---
18th February 2005 (Saturday 11:29am - Malay Peninsula Standard Time)
Great Cards Day!
Received quite a number of handmade cards today!
Went to retrieve mails from my postbox downstair and am pleasantly surprised to see this stack of mails with decorated envelopes. Hearts, roosters, and dragonflies stamped over the front and back of the envelopes.
I could not resist the temptation. Just have to look inside there and then. Found a seat near the postbox and opened up all my mails. Beautiful creations from Australia, States and Canada.
Wow!
The pleasure of receiving handmade greeting cards beside all the bills, and trash is wonderful. Will scan and upload this weekend. 
Those cards make my day! What a great feeling! I hope that my readers are blessed with many cards too.
BTW, if you need a pick-me-up-card, just send me your name and address and a card will be on its way to you.
---
2nd February 2005 (Wednesday 21:40pm - Malay Peninsula Standard Time)
Taking Jewellery Making Course
I have just started taking some courses on making jewellery like stringing,  bead wiring, and weaving.
I will be taking the weaving class tomorrow. Classes start at 9am and end at 7pm. By the time I got home, I'm dead beat:~C.  
Do bear with me if you do not hear from me.  Especially for those of you who had emailed me and have not received a reply yet. In fact, I have read all your mails but am just too tired to write back. But I promise you that I will do so immediately after the Chinese New Year. 
Check out my Jewelry Making website.
---
Making Greeting Cards!

›
Card-making Blog
› Here

To Top of Greeting Cards Blog Feb05