Handmade Christmas Cards By Beryl Deacon
Handmade Christmas Cards by Beryl Deacon
Here are some handmade Christmas cards by Beryl Deacon. Beryl is one of our readers and has graciously emailed me these handmade Christmas greeting cards for the website.
When I asked Beryl to tell me a little about herself, this is her reply:
Beryl said: Well I live in Essex and these are some my third lot of Christmas cards! I enjoy all kinds of methods [stamping, peeloffs, spirella, iris folding, fabric,] and am trying to get to grips with lace and pergamano - still have to try stencilling!
There's so much out there, every time I go shopping, or watch demos, I'm tempted to have a go! Addicted, my family say. I just love my hobby and all my family and friends now receive handmade greetings cards for every occasion in their lives.
Thank you, Beryl for agreeing to share with us some of your many handmade Christmas cards.
Well, I hope that from viewing these handmade Christmas cards by Beryl Deacon, you will be inspired to make your own Christmas cards this Christmas.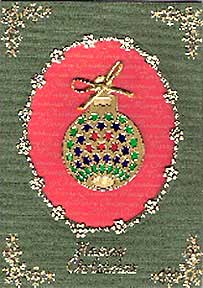 Ornament Design
Beryl : Bauble - this is a peel-off, mounted on acetate & coloured with OHP pens, then set in an aperture card with a Christmas backing paper. The edge of the aperture is decorated with peel-off chain and peel-off corners.
---
Beryl : Fabric card - the poinsettia is cut from a Fat Quarter, backed with double-sided tape and glittered; then mounted on black card with peel-off greeting and lines.
---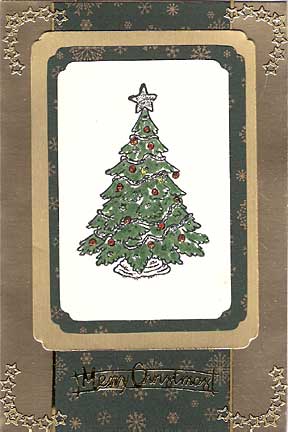 Christmas Tree Design
Beryl : The 'tree' - was stamped/embossed and layered on Christmas and gold backing paper decorated with peel-off corners.
---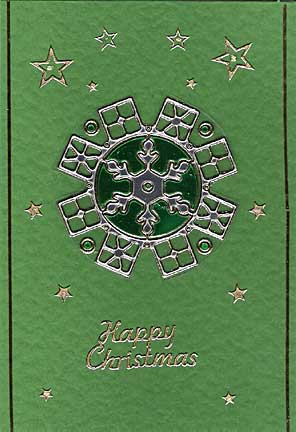 Christmas Medallion Design
Beryl : This is a peel-off medallion with waste in the spaces, stars and peel-off greetings to finish.
---
Snowflake/Star Design
Beryl : This is a peeloff mounted on mulberry paper [glue glittered on the torn edge] for the topper which I mounted on card stock decorated with peeloff corners.
---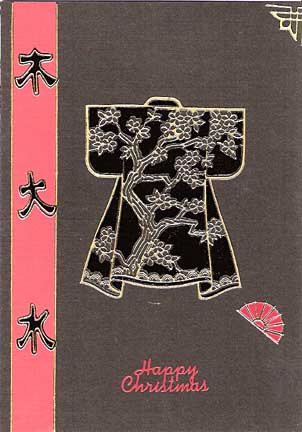 Japanese Kimono Design
Beryl : 'oriental' - another peel-off with waste to fill in; mounted on cardstock. The strip of red is card with oriental characters peel-off.
---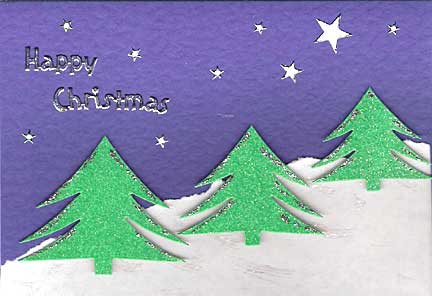 Winter Wonderland Design
Beryl : The 'Winter Wonderland' - this is made with mulberry paper for the snow and die-cut trees with a few stars. Very simple but I like it.
---
Making Greeting Cards!

›
Readers' Cards
› DIY Christmas Cards by Beryl Deacon
Like This Site?
Celebrating Creativity! Connecting Lives!
~ bringing cheer one card at a time.
Help Me Get The Word Out

If you like making greeting cards and want to encourage others to do so because of its many benefits, please help me share this website with your friends. Just click on the share buttons below to share with your fans and friends. Thank you for sharing the good things in life :-)