A Henna Tattoo Card! What's That?
Below is a Henna Tattoo Card which I created one evening just for fun. I used a henna hand design stencil which I bought some time ago in Little India. This stencil is used mainly by Indian ladies to paint their hands before their wedding day.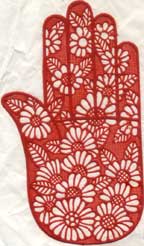 Henna Stencil Sticker
They use a kind of ink known as henna paste or mehndi which is taken from the root of a plant. It's also used for staining the hair for beauty. Not just for beauty but I understand that it's also for a practical reason - it's said to have a cooling effect against the heat of the sun.
I have tried it many times for my hair and it's great.
Anyway, I love the hand stencil and think that it's great to use it on my card making. So here it is - a henna tattoo card!
Tips: If you are anyway near some Indian shops or where henna stuff are sold, you should be able to get one of these stencils.
The above image will give you an idea how a henna stencil looks like. It is a sticker made of plastic and used for transferring tattoo designs onto your palm by applying henna (mehndi) on it.
I used the right hand stencil for this card. (The stencil on top is for the left hand).
You can use it more than once and I did. I made another Colorful Hand Card with it but mess up when I tried to do a third card. Anyway, here's the Henna Hand Tattoo Card.
You can click on the image to see a bigger version of the card.
Card Making Supplies for Henna Tattoo Card
Card Making Instructions:
Stick the stencil onto the white cardstock

Use the stencil brush and pounce on the inkpad

Pounce on the card.

You can peel a portion of the stencil to check.

Also apply ink around the stencil to get the border of the hand design.

Peel off the stencil.

Pierce holes on the index finger of the pattern.

Insert the brown ribbon and tie.

Cut around the hand pattern leaving a brown border.

Attach the hand design to a white color blank card leaving 1 cm space close to the fold.

Cut around the hand leaving a white border.
It is a fun card to make for just any girl friend whether to say 'Thank  you for your helping hand', or just to say 'Hello!', I think it is so appropriate.
Try it if you could get hold of one of these hand template.
---
Making Greeting Cards!

›
Fun Cards
› Henna Sticker Hand Card
Like This Site?
Celebrating Creativity! Connecting Lives!
~ bringing cheer one card at a time.
Help Me Get The Word Out

If you like making greeting cards and want to encourage others to do so because of its many benefits, please help me share this website with your friends. Just click on the share buttons below to share with your fans and friends. Thank you for sharing the good things in life :-)