Homemade Wedding Cards

- Design and Personalize for a Special Look -
Homemade wedding cards! Well, I had to make one wedding congratulations card fast.
My mom and I were invited to a wedding dinner. The groom was the son of my mother's best friend.
Usually, we give cash in a red packet. But because I make my own cards, people expect a homemade card from me whatever the occasion.
So a homemade wedding card it was.
Congratulations!
Wishing you
a lifetime
of
happiness.
And this is what I did.
I did not have any wedding stamps and didn't have time to create a wedding image so I chose something lovely, cute and simple from my collection of rubber stamps.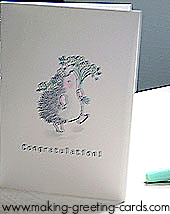 ---
Cool! Right? Well, it's definitely a very simple card and quick to make too.
Here are the supplies needed and detail instructions.
Even if you don't have the stamp, use another appropriate one for the occasion. Or use a computer printout image. (Be very careful when you color though. Inkjet printer ink might be washed out so use color pencils or crayons instead.)
Tips: Remember to sign your card. Stamp a small image behind (back of card) and sign your name or initial under the stamped image and if you like, date it too. Be proud of your creation.
---
Wedding Card Making Supplies
Off-white metallic cardstock (A5 size)
Rubber Stamps: Hedgehog Stroll (1728F) by Penny Black Rubber Stamp and "CONGRATULATION!" (Unknown)
Black Stazon Inkpad
Marvy Brush Markers
Palette
Water
Wedding Card Making Instructions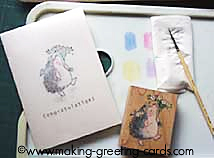 Score cardstock and fold to make a blank basic card.
Ink the Penny Black rubber stamp with black inkpad and stamp onto front of metallic card.
Stamp the word 'CONGRATULATION!' below the image.
Stroke markers on the palette to form color pools of your chosen colors.
Wet a brush and pick up color from the color pools on the palette.
Apply color to the stamped image with the brush.
PS: My card was made at the last minute but if you have time, you can and should add the followings: Apply glitter glue to the flowers. Tie a thin gold string on the fold. Print inside message on vellum or stamp a message if your have the appropriate message stamp. Insert into the card and tie with a gold string. 
Homemade Wedding Cards By Readers
Various Wedding Cards by Readers 

These are homemade wedding cards created by readers here who submitted them online.

Wedding Anniversary Cards

Wedding congratulations cards as well as Anniversary cards by readers.

LOVE Wedding Card

A LOVE Wedding Card by Barbara Dickason from Ohio, USA. 




A Wedding Greeting Card by Anita

Anita Cher from Malaysia is also another card maker and has send in this beautiful wedding greeting card to share with us.

Lynne Wedding Invitation Card

Lynne from Scotland sent in this Invitation card.
Like This Site?
Celebrating Creativity! Connecting Lives!
~ bringing cheer one card at a time.
Help Me Get The Word Out

If you like making greeting cards and want to encourage others to do so because of its many benefits, please help me share this website with your friends. Just click on the share buttons below to share with your fans and friends. Thank you for sharing the good things in life :-)