I Love You Valentines Card
I Love You Valentines Card
Say "I Love You" to that special someone with this romantic I Love You Valentines Card. Simple, sweet and romantic! He or she will loves it.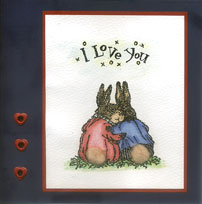 Craft Supplies:
Blue Color Cardstock (Basic Card)
White Watercolor Paper
Red Cardstock (for Layering)
3 Red Heart Shape Eyelets
Eyelet Setter
Color Markers
Glue
Tiny Brown Pom Pom
Black Pigment Ink Pad
Brush
Hole Punch
Image Stamp: True Love from Holly Pond Hill/Uptown Rubber Stamps
Message Stamp: I Love You (Unknown)
Instructions:
1. Prepare the Blue Blank Basic Card.
2. Tap stamp "True Love" on black ink pad to apply ink to stamp.
3. Stamp on white watercolor paper.
4. Repeat with "I Love You" message stamp. Stamp above the "True Love" stamp.
5. Pour black detail embossing powder on the stamped images.
6. Pour back excess embossing powder.
7. Use a tiny brush to clean up any stray powder on the card.
8. Use heat gun to melt the powder.
9. On palette, scribble pink, blue, green and brown markers in small patches.
10. Pick up each color with a brush and color the stamped images.
11. Glue pom pom to the tails.
12. Cut and layer on red cardstock.
13. Attach to blue blank basic card.
14. Punch 3 holes on the botton left side of blue card.
15. Attach the 3 red heart eyelets with eyelet setter.
Have A Happy Valentines Day!
Like This Site?
Celebrating Creativity! Connecting Lives!
~ bringing cheer one card at a time.
Help Me Get The Word Out

If you like making greeting cards and want to encourage others to do so because of its many benefits, please help me share this website with your friends. Just click on the share buttons below to share with your fans and friends. Thank you for sharing the good things in life :-)
Top of  I Love You Valentines Card