How to Make Your Own Stickers At Home
You can easily make your own stickers at home. These homemade stickers can be used as embellishments for your homemade cards or scrapbooks.
All you need to make your own stickers are a roll of the broadest clear cellophane tapes and some black and white or colour photocopied images and follow the step by step instructions below.

Notes:
You can use cutouts from magazines instead of laser printed or photocopied images.

The images I used here were from googling for clip-arts online and these are free to use images.
Stickers Making Supplies Needed: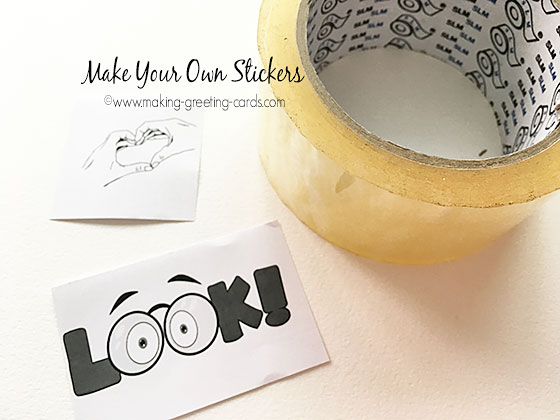 Sticker-making Supplies
Instructions for How to Make Your Own Stickers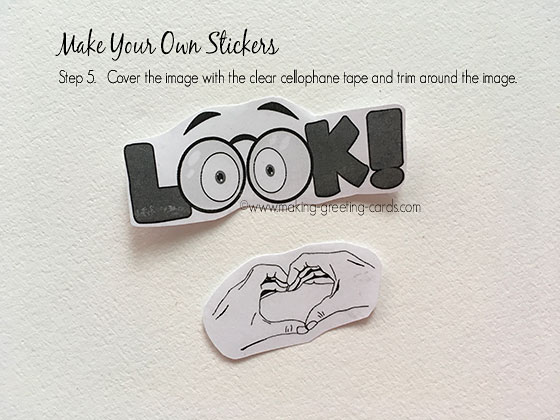 Step 5 of Sticker-Making
Have your desired images black and white or colour photocopied or laser print on a black and white or colour laser printer.

Trim the photocopied/laser printed images.
Place it face up on a flat working surface.
Cut out a piece of clear cellophane tape slightly bigger than the size of the image.
Cover the image with the clear cellophane tape and trim around the image
Use your thumb to rub over the clear tape.
Soak the tape in water for a minute.
Remove the paper from the tape by gently rubbing on it in the water. The soaked paper will come off easily leaving the image on the tape.
Leave tape to dry. 
Once dried, attach to your card or scrapbooking paper. If the tape is not sticky enough, just use a glue stick to dab on the tape for stickiness.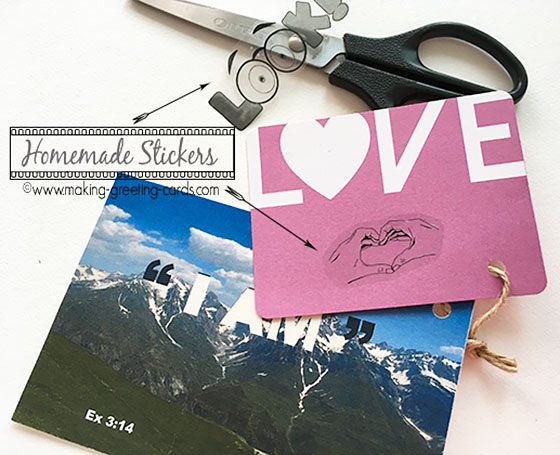 Stickers I Created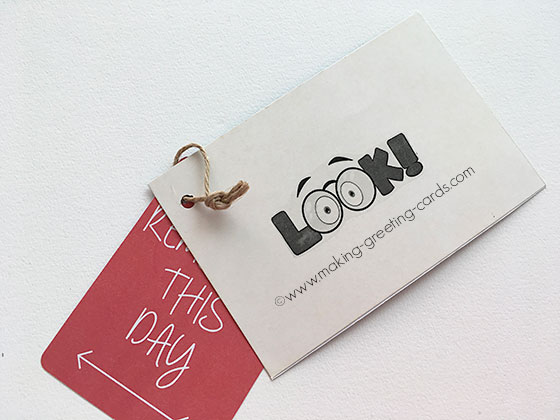 LOOK! Sticker
Sticker Cards
If it's a black and white image and you want to add some colour, just add glitter glue to the sticky side of the image on the tape.
But nowadays, you can easily print or photocopy in colour. For the above, I print out the images on 80 gsm office paper as a black and white print on a laser printer as I ran out of colour inks.
This is very fun to do with children. They just love it.

---
Subscribe to GreetingNews!
GreetingNews! is a free monthly newsletter sent directly to your mailbox every month for you to stay abreast of the latest news and trends on greeting card making as well as all updates made to this site.
Just fill in your email address and first name in the boxes below and click "Subscribe".
---
Making Greeting Cards!

›
Make Your Own Craft Supplies
› How to Handmade Stickers
Like This Site?
Celebrating Creativity! Connecting Lives!
~ bringing cheer one card at a time.
Help Me Get The Word Out

If you like making greeting cards and want to encourage others to do so because of its many benefits, please help me share this website with your friends. Just click on the share buttons below to share with your fans and friends. Thank you for sharing the good things in life :-)